Monthly Cancer Horoscope
May, 2021
General
In this month of May, natives of Cancer zodiac sign are likely to get financial benefits. The situation in family life will also be normal and you will be able to spend a good time with the people at home. Positive changes will also be seen in the lives of people with this sign. Those who are in a love relationship will have to be careful. Married natives will be able to reconcile with their spouse. Cancer natives will have to remain careful about their health. Let us now know in detail how these natives will get fruits in different walks of life.
Career
This month will bring positive changes in the life of the people of Cancer. Sun is posited in the exalted sign in your tenth house. This will lead to a promotion for employed natives of this zodiac sign. With this, people with Cancer zodiac sign can get appreciated for their work in the second half of the month. A senior official will praise your work. At the same time, those who were still unemployed can get a desirable job this month. Some people may also have to travel long distances in relation to work. Those who do business will also get reasonable benefits this month.
Some natives doing business can bring about positive changes in their business through new contacts, which will likely turn out to be beneficial. In addition, those who wanted to establish their businesses in other places will also get good results this month. However, before making any major decision, you must consult experienced people. Overall, the career graph of the people of Cancer sign will be on the rise this month. However, at the same time, you should avoid making any wrong decision impulsively under extreme enthusiasm this month. If you acquire appreciation from seniors, avoid becoming overconfident and stay on the ground.

Finance
There is a possibility of positive changes in the financial life of the natives of this zodiac sign. On 4 May, when Venus enters your eleventh house, you will see tremendous growth in income. Especially businessmen of this sign can earn good profits during this period. After May 14, Sun will go in your tenth house, due to which employed natives can gain some benefits from their jobs as well as other sources this month. Although the conjunction of Rahu-Mercury in the eleventh house will also give you financial benefits, the presence of Mars in the tenth house and Jupiter in the eighth house may also lead to small expenses. Hence, you should make a budget to avoid unwanted expenses. Investing money will also be good for you. Some people of this sign can also spend money on essential items of the house this month.
Health
Cancer natives have to be careful about health this month. You should avoid eating fatty food items. Health problems related to the throat and stomach can make you anxious. To keep yourself fit, you should include exercising in your daily routine. Especially the elders of this zodiac sign will have to take special care of themselves. To avoid throat problems, you should resort to Bhramari Pranayama. Some of the natives may get upset due to recurring life problems, but doing meditation can help you maintain mind peace and balance.
Love/Marriage/Personal Relations
In love related matters, the natives of this zodiac sign will have to be cautious this month. Due to the position of Ketu in your fifth house and the aspect of Rahu and Mercury on it, you may face some problems. You may get into a quarrel about something with your lover, which can also lead to a situation of separation. After May 14, Sun will sit in your tenth house and aspect your fifth house, which can add to your problems in love life. Therefore, the natives of Cancer zodiac sign in love this month need to work on their behavior. You have to understand the root cause of quarrels between you and your loved one, as only then can you resolve the issue.
On the other hand, if you talk about married people of this sign, then this month will be favorable for you. Saturn in your seventh house will bring happiness in married life. You will be devoted to your spouse and your spouse will be equally devoted to you. In the past, if there was any discord or conflict between the two of you, then that too can get resolved during this time. With this, some married Cancerians can form an idea to start a new business together with their spouse.

Family & Friends
Cancerians will get mixed results in family life. This month you will get the full support of your siblings and through them, you can also get benefits. Any religious work is possible in the family due to the aspect of Sun and Venus on your fourth house as well as the influence of Saturn and Jupiter on your second house. With the initiative of a senior member in your family, happiness and peace will prevail in the family. At the same time, the arrival of a new member in the family may happen this month, due to which the happiness will increase in the house. You will share your troubles with the house members, which will increase faith, calmness and a sense of brotherhood between the family members. If you are a little sluggish in doing your household chores, then you can get active this month and can be seen supporting your spouse or parents in doing household chores. The natives of Cancer sign love their mothers dearly, and during this month, this will readily increase and you will spend time with your mother.
Advice
Worship Shri Ganesh Ji daily and offer him Durvankur.
Adorn a Pearl on your finger.
Recite the mantras dedicated to Lord Moon: ॐ श्राँ श्रीं श्रौं सः चन्द्राय नमः/oṃ śrām̐ śrīṃ śrauṃ saḥ candrāya namaḥ
Keep a large quantity of Ganga Jal in your house.

These are generalized predictions based on your moon sign. For more personalized predictions, connect live with an Astrologer on call or chat!

» Cancer Compatibility
This is regarded as an excellent sign combination. They will have harmony in their relationship and will share the same wavel...
She will have an irresistible magnetism that will keep him hooked. He will communicate in charismatic way to keep her involve...
This is Dwi-dwadash position (2-12) which is not considered good in Vedic astrology. It also indicates the fundamental differ...
This is regarded as a good sign combination. They will have the same wave-length and will be at same emotional and intelligen...
This is not regarded as a good combination due to Dwi-dwadash (2-12) position. She will be assertive and dominating. He will ...
This makes a fabulous sign combination. They will share the same emotional plane and will understand each other's mood and fe...
They will be at the same intellectual and emotional plane. They will collaborate in the areas of art, fashion, music, films, ...
This combination indicates a fundamental incompatibility in their natures and thinking. There will be difference of opinion a...
There will be fundamental difference in thought process and nature. He would carve for freedom and independence. She will be ...
This is a good sign combination. They will respond well to each other and build long lasting relationship. She will be practi...
This is not regarded as a good sign combination. There will be basic differences in their ways of approaching life. The boy w...
Both the natives will be very emotional, due to which they will become irrational most of the times. Instead of trying to und...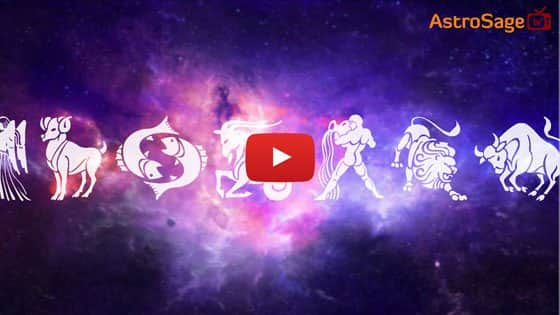 Buy Gemstones

Best quality gemstones with assurance of AstroSage.com
Buy Yantras


Take advantage of Yantra with assurance of AstroSage.com
Buy Feng Shui

Bring Good Luck to your Place with Feng Shui.from AstroSage.com
Buy Rudraksh


Best quality Rudraksh with assurance of AstroSage.com