Monthly Taurus Horoscope
May, 2021
General
Natives of Taurus zodiac sign ruled by Venus will get mixed results in this month of May. You will be seen trying to improve the conditions in your Family Life. Your position in the field of work will improve, however, people of this sign will have to remain a little careful about matters related to money and also pay special attention to their health. Read the monthly horoscope to know how this month of May will be for you.

Career
From the perspective of career, this month will be excellent for Taurus natives. The position of Jupiter in your tenth house and Saturn in the ninth position will give you success in the field of work. Some people of this zodiac sign may achieve a higher position this month. Those who are still unemployed are also likely to get the best employment opportunities. Ketu is present in your seventh house, so you need to avoid doing business in partnership this month. Those who are already doing business in a partnership are advised to remain careful. Maintain a distance from people you don't trust, otherwise, you can get cheated.
You have to keep an eye on your partner too. If you are going to file some paperwork, keep someone trustworthy around you. After May 14, when the Sun will enter your Ascendant, it will aspect your seventh house. Under its influence, these natives will attain success in their professional field, especially those connected with the government sector. You will have to stay alert when it comes to court or legal cases this month.

Finance
The financial life of Taurus natives can remain a bit troublesome this month. Venus and the Sun will be sitting in your twelfth house, leading to a rise in unnecessary expenses. At the same time, there is also a possibility of a decrease in income for Taureans. Although the last two weeks of this month will be good for you, during this time you will be able to accumulate some wealth. Also, your financial situation will also improve. This week can be extremely favorable for those who do business, since your business may gain new momentum.
At the same time, natives doing business in partnership and had some conflicts with their partner due to some reason will become capable of resolving their issues. With this, you will be able to attain profits in business. To control the expenses, the people of Taurus zodiac sign will have to make a good budget plan. For this, you can also take the help of your spouse or a senior of the household. You should avoid spending money you had saved this month.

Health
You will be able to enjoy life only when you will have good health. This month, you will have to understand this situation and have to resort to yoga-meditation to keep yourself fit. There may be some health-related challenges related to health such as eye disorders, sleeplessness or insomnia etc. Hence, try to meditate before sleeping and do not overthink. People who have crossed the age of 50 may have joint pain problems. You are advised to eat calcium-rich food.

Love/Marriage/Personal Relations
Those who are married need to be a little cautious this month. Ketu's position in your seventh house and seventh aspect of the Sun after May 14 can have an effect on your married life. You may also get into a fight with your spouse over trivial matters. In such a situation, you need to control yourself. If the situation gets worse, then it's better to remain calm as it will help you control the situation. To make your spouse understand, you should take them out somewhere for a short journey. This will increase your life partner's trust in you and remove all grievances.
This month will be good for natives who are in a love relationship. Your partner will feel attracted towards you, and you will also feel the same. If you and your beloved have different opinions about any issue which can lead to increasing differences as well as distances, it is better to talk it out. Those who live far away from their beloved may miss them a lot this month. On the other hand, you can introduce your lover in front of your friends. You can talk to your beloved through phone or social media for hours to make up for the distance.

Family & Friends
Taurus natives will get mixed results in family life this month. This month, Mars will be present in your second house, while Jupiter will be in your fourth house. Family members will have to rely on each other this month, otherwise the situation may become even more adverse. To improve the condition of the house, you also need to control your speech. For a favourable change in the family, you have to step ahead, take the role of a leader and avoid losing your temper in any situation.
You will get support from your brothers and sisters this month. By talking to them and sharing your concerns, you can improve the condition of the house. When communicating with elders or seniors, choose the words carefully. If any of your family members do not understand the situation, then avoid any kind of force. If you are the eldest in the family, avoid making forceful decisions and seek the advice of every member. Married Taureans should not misbehave with their spouse in front of the family members.

Advice
You should worship Maa Durga and chant any of her mantras.
Wear the Sphatik Mala on Friday.
Daily chant the Beej Mantras dedicated to the planet Venus daily. (ॐ द्राँ द्रीं द्रों सः शुक्राय नमः / oṃ drām̐ drīṃ droṃ saḥ śukrāya namaḥ)
Donate white goods.

These are generalized predictions based on your moon sign. For more personalized predictions, connect live with an Astrologer on call or chat!

» Taurus Compatibility
This can not be considered as a good combination as far as sign compatibility is concerned. Their egos will be the biggest p...
It is a harmonious combination. Both will be cool, calm, intelligent, balanced, caring and will listen to each other's views...
This is not regarded a good sign compatibility. The boy will be more artistic and imaginative in nature, whereas the girl wi...
This is an excellent sign combination. This combination indicates that they will coordinate well with each other. The girl w...
This relationship lacks harmony and understanding. There will be tensions and problems due to their egos. He will have to wo...
This is not regarded as good combination, generally. He will require space for his mental and creative satisfaction. Her nat...
He will be too egotistical and dominating to coexist with. He is an extrovert and flamboyant by nature. She is a calm and in...
Opposite signs are regarded very good by Vedic astrologers. They will be able to complementeach other well and achieve long ...
This is not regarded as a good sign combination. Astrologically it is called Shadashtak i.e. 6-8 relationship which is consi...
This is not a good sign match. She will be practical, traditional and down-to-earth. He will be fashionable, flamboyant and ...
He will have conservative, practical, matter of fact approach. She will be progressive and ideological about life. Both will...
It is regarded as a good match by Vedic astrologers. The girl will be able to match the imagination and creativity of the boy...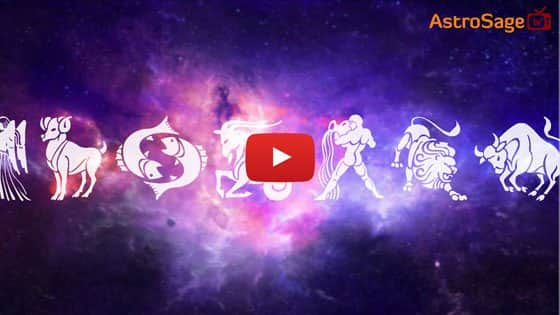 Buy Gemstones

Best quality gemstones with assurance of AstroSage.com
Buy Yantras


Take advantage of Yantra with assurance of AstroSage.com
Buy Feng Shui

Bring Good Luck to your Place with Feng Shui.from AstroSage.com
Buy Rudraksh


Best quality Rudraksh with assurance of AstroSage.com