Monthly Taurus Horoscope
June, 2018
General
Due to increased engagement in the business related work, it may cause you more mental problems. Only by putting in your extreme hard work and struggle, there will be possibilities for you to earn your sources of income. There are chances of a disturbed work to function properly. If you perform any work with confidence and enthusiasm then it can prove to be successful.There can be growth in your social name and fame as well as your chances of enjoying luxury facilitates like buying a house or vehicle etc are possible. In terms of money related to real estate, this month may be an advantage. If you are planning to take a home then this can be successful in this month. There are possibilities for you to get some good benefits from coming in contact with a close relative of yours. You are prone to face stressful situations in terms of an increment in a position. As in terms of work, you have to start working very hard. By pitching in your best efforts in work, you can achieve the benefit of gaining a higher position. There are also possibilities for you to get support from your desired friends in this month. If you want to perform a work with the help and support of your best friend, then that can prove to be successful. If you are a student and you are preparing for some type of an elite preparation in this month, then you can obtain the desired benefits from it. If you are striving hard for an employment or longing for a higher position at work, then your desires will fulfill. Your tireless effort can bring you great success in your life. There is a possibility of successful out of the station traveling in this month. If you are trying to prepare yourself from some time ago to go out then this plan of yours may be successful in this month. The initial week of this month may prove to be stressful for you. In the first week, only after working very hard there are possibilities for you to gain success in any work. You may have to face mental problems due to non-completion of work on time. Your economic conditions can be stressful now. In the early stages, fate will also give you results at a normal level and your working conditions could be normal. If you are planning to make an extension of any of your work plan or are thinking to do any new work in this month, then you should wait. From your financial point of view the conditions can be good. Give up the idea of ​​rendering money to someone in this month. If you have given money to someone or are going to give money, then you may have to run behind them day and night to get your money back. Your physical and mental status can be fluctuating. All the successful work which you will do will in return increase your morale and you may also have an economic advantage.
Finance
In this month, good opportunities for economic benefits can be obtained. However, you will receive these conditions after a lot of effort. The Jupiter is moving in Libra, which is financially stressful. If you are trying to invest your money in any kind of work in this month, then it can be much better. Problems may arise for some reason. The situations might be slightly better in the second half of this month. Work done for acquiring wealth can lead to good success. There is a possibility of being commercially viable. The situations regarding the functioning are going to be normal in this month. Therefore, expansion of any kind of work or launching a new work can be harmful. Instead it will be better if you try to do whatever you are doing. In this month, Saturn is transiting into Sagittarius zodiac sign, which is likely to be commercially viable. Fate too will not give you any good. That is why it is not sure that you would get good benefits even if you have tried everything possible. In this month, there is a need for you to be cautious with your relatives. Do not plan to lend any money to anyone or do not even think of sharing any work with him or her. Otherwise, the dispute may be likely to increase. The Sun is transiting into Taurus, which can be successful in the work done with self-confidence. However, hasty actions or hasty decisions can cause problems. You might have to face economic loss.
Health
In this month, there may be a complaint of infection in the lower part of the waist. Any kind of urinary related problems may arise. In this month, you may develop stomach-related disorders. Therefore, it will be good for you to take care of your food and pay special attention to cleanliness.
Love/Marriage/Personal Relations
In this month, there may be good news from your boyfriend/girlfriend, a good news that you have been waiting for from a long time. In this month, you can launch a new task with your boyfriend/girlfriend, which can improve the economic condition of both of you.Having a warm relationship with your beloved can be a big boost for you. Your ability to work can increase. If you want to speak up your mind or about any other work in this month, then you can do it. However, take care of one thing; do not do any such thing that might hurt your partner. Because of which, your mutual harmony can get worse. If you plan a short trip in this month, then the relationship between both of you can be better. Generation of any new ideas can take place even in connection with the work. In this month, you can be happy with the behavior of your boyfriend/girlfriend. Conditions can also be good for married life. In this month, with the help of your wife, your fortune can be progressive and you will get good benefits in the areas of work. If you are planning to travel outside with your life partner, then it can be successful in this month. You are also likely to get support from your in-law's side. Your marital life can be successful this month. If you are not married and are trying to get married, then you can find some auspicious signs this month. Some preparations may be completed.
Family & Friends
In the initial week of this month, you may have to face family problems. Due to being disturbed mentally their might be a rise in your domestic conflicts. Deteriorating familial harmony can also have a bad effect on your workplace. With the cooperation of your parents in the home family, you can get the opportunity to launch a new work. In this month, the support from your brother and sister can be non-existent. So do not try to expect more from them. However, please try to maintain a better relationship with everyone. Conditions may be favorable from children's side. You are likely to get satisfaction and support from your children. If you want to invest in a good place related to your child's education, then you can do it. In this month, your burden of expenditure on children can increase. Therefore, it will be beneficial, if you carefully try to maintain your balance. Keeping a close rapport with everyone will be your advancement. Try to keep a warm relationship with your friends and relatives, together with your family members, as you don't know, who are the ones, who will be there for your help in your time of need and who will stand by you in your bad times, whether your family, friends or relatives and those people who will support you in such times of despair are the best friends and relatives you could ever have. This will be possible only if you too will indulge in creating a good and cordial relationship with them. Having some new work at home can increase the burden of expenses, because of which you might face financial problems. The people in your family can expect more from you. However, trying to keep everyone together and thinking about their development and trying to fulfill it can be successful. There can be small issues of controversy but it is your responsibility to take care that no major problem arises. Generally, you can expect conditions to improve in the family this month. One of your efforts could change the family environment. Along with good thinking it is beneficial to have good actions as well.
Advice
You can fast and worship on Friday and donate white items on Friday. You can donate in the temple or also assist in the temple. Donate decorative things in the temple.

» Taurus Compatibility
This can not be considered as a good combination as far as sign compatibility is concerned. Their egos will be the biggest p...
It is a harmonious combination. Both will be cool, calm, intelligent, balanced, caring and will listen to each other's views...
This is not regarded a good sign compatibility. The boy will be more artistic and imaginative in nature, whereas the girl wi...
This is an excellent sign combination. This combination indicates that they will coordinate well with each other. The girl w...
This relationship lacks harmony and understanding. There will be tensions and problems due to their egos. He will have to wo...
This is not regarded as good combination, generally. He will require space for his mental and creative satisfaction. Her nat...
He will be too egotistical and dominating to coexist with. He is an extrovert and flamboyant by nature. She is a calm and in...
Opposite signs are regarded very good by Vedic astrologers. They will be able to complementeach other well and achieve long ...
This is not regarded as a good sign combination. Astrologically it is called Shadashtak i.e. 6-8 relationship which is consi...
This is not a good sign match. She will be practical, traditional and down-to-earth. He will be fashionable, flamboyant and ...
He will have conservative, practical, matter of fact approach. She will be progressive and ideological about life. Both will...
It is regarded as a good match by Vedic astrologers. The girl will be able to match the imagination and creativity of the boy...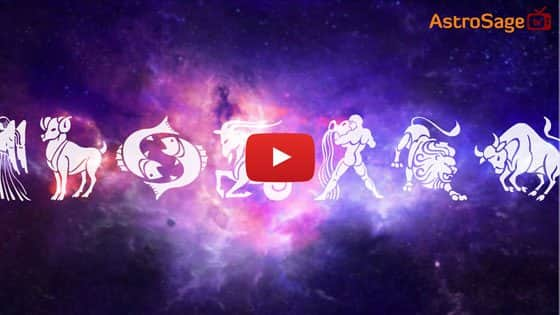 Buy Gemstones

Best quality gemstones with assurance of AstroSage.com
Buy Yantras

Take advantage of Yantra with assurance of AstroSage.com
Buy Feng Shui

Bring Good Luck to your Place with Feng Shui.from AstroSage.com
Buy Rudraksh
Best quality Rudraksh with assurance of AstroSage.com