Monthly Gemini Horoscope
December, 2018
General
You will be an intelligent person, who will possess remarkable analytical and logical skills. You will think well before making a binding decision. You will err on the side of caution, which will save you from landing into problems way too frequently. You would be unable to save any pennies during this period and will spend more than necessary. This behaviour of yours should be curbed and you should tighten your belt if you do not want to run into a financial crunch. You should avoid trusting others blindly, even if they are your relatives. Rely on logic rather than emotions in making decisions. There are chances that someone close to you will try to betray you during this month. Therefore, you need to be careful about it so that you do not have to suffer through losses. If you are employed in the private sector or the public sector, you are likely to perform well in your profession. This will help you to get your hands on a promotion or a hike in salary, which bring happiness in your professional life. Your confidence and courage will help you to overcome any hurdle that might lie on your path to success. You will be able to buy a new property or a new vehicle if you have been looking forward to doing so. If you are involved in politics, you will gain benefits. However, your opposition will be tough and will make every effort to taint your image and bring you down. Therefore, you should make every possible effort to keep your status intact. The month of December will be a good time for students. You will get good results in your academics if you invest your time and hard work for it. Those who are up for job-hunting will be able to bag a job of their choice. You should be careful about your health as it is likely to deteriorate during the span of this month. Adopting a healthy lifestyle will help you. The transit of Jupiter in the Zodiac Sign Scorpio will be good for your business and career. Coupled with this, your luck factor will also help you to achieve success. The chances of monetary gains are quite high because of the transit of the red planet Mars in the Zodiac Sign Aquarius. You might have to face problems if you are in the real estate sector. You should not lose hope and should continue with your efforts if you want to get over the problems. The journeys that you undertake during this month will beget fruitful results. The situations in your married life will be a bit dicey and you would be required to be patient and nature to deal with the problems in your marriage. The latter half of the month will bring you some good news.
The 1st, 2nd, 10th, 11th, 19th, and 20th of December seem to be unfavorable for you. You should be careful on these dates and should not try to take major decisions on these days.
Finance
You will be bestowed with a number of opportunities that will help you gain hold of a good financial status. You will develop connections with some people of higher status, who will help you in your career. Your luck will favor you and as a result, you will advance towards progress at a rapid pace. Tasks undertaken by you will be met with success. It will be good for you if you stay away from investing money in the real estate sector. You might not be able to save your money during this course of time. Nevertheless, you might invest your money in the share market on a long-term basis. This will likely beget you good results in the future. Do not trust anyone blindly in money related matters. Avoid giving money to others on a borrowing basis as you will have a hard time in getting it back. You should follow a rational approach rather than an emotional approach in matters of finance. You are advised to keep your professional life and your personal life untangled from each other. If you will try to merge them, you will have to repent it later. Have belief in your own self and do not get swayed by the opinion of others. Take actions according to the given situation and avoid overreacting. Let yourself find your own way in times of distress.
Health
Prioritize your health over other things if you want to live a happy and healthy life. Take care of yourself and seek medical help when the situation calls for it. There are chances of a sudden degradation in your health during this month, so make sure that you prepare yourself to deal with it. You might also suffer from joint pain, arthritis, muscular spasms, etc. Therefore, you should take the necessary measures like exercising regularly and consuming a balanced diet to ensure your health and fitness.
Love/Marriage/Personal Relations
You will share a romantic and passionate relationship with your loved one during the month of December. You will get the golden opportunity that you have been waiting for long to propose the one you love during this month. There is a racing certainty that your proposal will be accepted and you will be able to ensure a bright future for yourself with the one whom you love. Those who are single and are looking for love might get hit by the cupid's arrow of love during this period. The ones who are in a committed relationship will enjoy quality time with their partner. You might also start something new with your partner during this month. Your partner will stay by your side during rises and falls in your life. Their presence would be cherished by you and you will work hard to make them happy and satisfied. Those who are studying will get help in their studies and will also study in the company of their partner. Wedded duos might have to face some crests and troughs in their married life. You and your partner might get steamed up frequently, resulting in squabbles and war of words. This would not only lead to the wastage of time but will also spoil your mood. You should try to act maturely and adhere to the vows of marriage. Try to calm down the situation whenever you see it getting out of hand. Also, try to keep your anger under control and avoid speaking disrespectful words to your partner.
Family & Friends
You might not be happy with the situations prevailing in your family. Trivial matters will arise every now and then and will become the topic of discussion in your family every time that they crop up. The different opinions of your family members will make the situation go out of control and create problems among your family members. Do not let these petty issues occupy your mind as they will hamper your thinking abilities as well as decision-making skills. Maintaining peaceful conditions at your home will provide you mental peace and as a result, you will do well in all walks of life. Make sure that you do not get embroiled in heated arguments with your family members. There might be some property related issues with your relatives, which you need to be careful about. You might also be dragged to the court because of them. Make sure that you do not get involved in something illegal as it would create a problem for you. The frequent ashes between the family members might corrode the bond that you share. Try to control your anger and find the solution to the problems, instead of fighting among yourselves. You should try to save your money as it will be required for the treatment of your parents if their health status dwindles. Taking care of your parents will be necessary. The conditions will be good for your children and they will enjoy a pleasant time during this month. Their bonding with you will be strong. They will look up to you as an example and you should not spare any effort in setting the correct example for them. You will be happy if you maintain a warm relationship with your kinsmen. Therefore, try to be friendly with them instead of putting up a cold demeanor.
Advice
Venerating Lord Ganesha, especially on Wednesdays will give you positive results. Helping students out with their difficulties will help you to wade through your own. You can also contribute for students in a Gurukul or school. Feed green fodder to cows.

» Gemini Compatibility
This is a harmonious and mutually stimulating combination. They will be loving and caring toward each other and will share a ...
This is not regarded as a harmonious combination. This is Dwi-dwadash (2-12) disposition which is not regarded good for marri...
Both will be having many things in common and hence this is regarded as a good combination. Both will have similar approach t...
This is not regarded as a good planetary disposition. Both will be strongly attracted, but deep down there will be nothing c...
This is an excellent sign combination. They will be passionate, understanding and caring. The boy will be impressive, loyal ...
This is a combination indicating mutual intellectual, clarity of thoughts and effective communication. They will be attracte...
This combination is characterized by the basic difference in their ideologies and thought process. She will be simple and fol...
This combination shows fundamental differences in thinking and approach toward life.This combination shows fundamental diffe...
This is regarded as a good combination as far as sign compatibility is concerned. Both are intelligent, practical and spiritu...
This is called Shadashtak (6-8 combination) in Vedic astrology and disapproved in marriage. The boy may find girl boring and ...
This is not regarded as a good combination as far as sign compatibility is concerned.There will be huge communication gap du...
This is a good combination for love and relationship. He will be witty and entertaining, whereas she will be social and grace...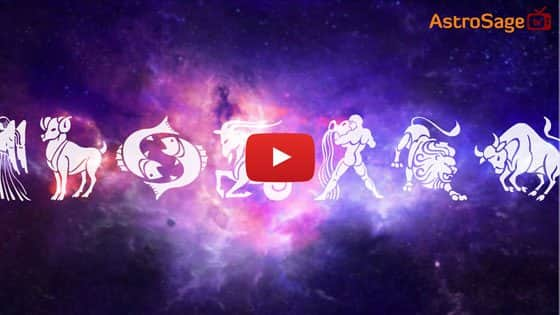 Buy Gemstones

Best quality gemstones with assurance of AstroSage.com
Buy Yantras

Take advantage of Yantra with assurance of AstroSage.com
Buy Feng Shui

Bring Good Luck to your Place with Feng Shui.from AstroSage.com
Buy Rudraksh
Best quality Rudraksh with assurance of AstroSage.com