Hindu Calendar 2014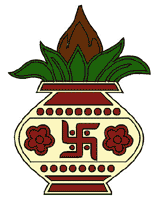 Hindu Calendar 2014 has the details of all the Hindu festivals of 2014. In Hindu Calendar for 2014, we have provided the dates of all the religious Hindu festivals from January to December. Hindu Calendar of 2014 is based on the traditional astrology. Hinduism is believed to be one of the oldest religions in the world, which has the largest following in India, Nepal and Sri Lanka, to name a few. There are many versions of Hindu calendars depending on the region and language but the content will almost be the same. Some of the popular Hindu Calendars 2014 are Tamil Calendar 2014, Telugu Calendar 2014, Kannada Calendar 2014, Malayalam Calendar 2014 etc.
Although there are different versions of Hindu Calendar, their main details like the names of the days of the week and months remain the same, as they are originated from the same source. In Hindu calendar 2014, some of the dates of the festivals may vary as they are based on the position of Sun and Moon. Some of the major Hindu Festivals which are world famous are Diwali, Ganesh Chaturthi, Navarathri & Dussera. Hindu Calendar 2014 will provide you with the exact details from which day to which is the most auspicious time of the day to celebrate these festivals and more. Below is the list of month wise hindu festivals taking place for the year 2014.
Scroll down for the detailed 2014 Hindu Calendar.
Hindu Calendar 2014 for January
11
Saturday
Pausha Putrada Ekadashi
14
Tuesday
Pongal,Sankranti
16
Thursday
Paush Purnima
27
Monday
Shattila Ekadashi
Hindu calendar 2014 for February
04
Tuesday
Vasant Panchami
06
Thursday
Ratha Saptami
07
Friday
Bhishma Ashtami
12
Wednesday
Kumbha Sankranti
25
Tuesday
Vijaya Ekadashi
27
Thursday
Maha Shivaratri
Hindu calendar 2014 for March
12
Wednesday
Amalaki Ekadashi
14
Friday
Meena Sankranti
16
Sunday
Holi/Holika Dahan
24
Monday
Basoda,Sheetala Ashtami
27
Thursday
Papmochani Ekadashi
31
Monday
Chaitra Navratri,Gudi Padwa,Ugadi
Hindu calendar 2014 for April
02
Wednesday
Gauri Puja/Gangaur
05
Saturday
Yamuna Chhath
11
Friday
Kamada Ekadashi
14
Monday
Solar New Year, Mesh Sankranti
15
Tuesday
Hanuman Jayanti,Chandra Grahan
25
Friday
Varuthini Ekadashi
Hindu calendar 2014 for May
01
Thursday
Parashurama Jayanti
02
Friday
Akshaya Tritiya
10
Saturday
Mohini Ekadashi
13
Tuesday
Narasimha Jayanti
14
Wednesday
Buddha Purnima, Vrish Sankranti
15
Thursday
Narada Jayanti
24
Saturday
Apara Ekadashi
28
Wednesday
Shani Jayanti,Vat Savitri Vrat
Hindu calendar 2014 for June
09
Monday
Nirjala Ekadashi
12
Thursday
Vat Purnima Vrat
15
Sunday
Mithuna Sankranti
23
Monday
Yogini Ekadashi
29
Sunday
Jagannath Rathyatra
Hindu calendar 2014 for July
08
Tuesday
Devshayani Ekadashi
09
Wednesday
Devshayani Ekadashi
16
Wednesday
Karka Sankranti
22
Tuesday
Kamika Ekadashi
30
Wednesday
Hariyali Teej
Hindu calendar 2014 for August
07
Thursday
Shravana Putrada Ekadashi
08
Friday
Varalakshmi Vrat
10
Sunday
Raksha Bandhan,Narali Purnima
17
Sunday
Janmashtami *Smarta,Simha Sankranti
18
Monday
Janmashtami *ISKCON
28
Thursday
Hartalika Teej
29
Friday
Ganesh Chaturthi
30
Saturday
Rishi Panchami
Hindu calendar 2014 for September
05
Friday
Parsva Ekadashi
08
Monday
Anant Chaturdashi,Ganesh Visarjan
09
Tuesday
Bhadrapada Purnima,Pratipada Shraddha
17
Wednesday
Kanya Sankranti,Vishwakarma Puja
19
Friday
Indira Ekadashi
23
Tuesday
Sarva Pitru Amavasya
25
Thursday
Navratri Started
Hindu calendar 2014 for October
01
Wednesday
Saraswati Avahan
02
Thursday
Saraswati Puja,Durga Ashtami,Maha Navami
03
Friday
Dussehra,Vijayadashami
04
Saturday
Papankusha Ekadashi
05
Sunday
Papankusha Ekadashi
08
Wednesday
Sharad Purnima,Chandra Grahan
15
Wednesday
Ahoi Ashtami
20
Monday
Govatsa Dwadashi
22
Wednesday
Narak Chaturdashi,Kali Chaudas
23
Thursday
Diwali/Lakshami Puja,Surya Grahan
Hindu calendar 2014 for November
03
Monday
Devutthana Ekadashi
06
Thursday
Kartik Purnima
14
Friday
Kalabhairav Jayanti
16
Sunday
Vrischika Sankranti
18
Tuesday
Utpanna Ekadashi
27
Thursday
Vivah Panchami
Hindu calendar 2014 for December
02
Tuesday
Mokshada Ekadashi,Gita Jayanti
06
Saturday
Margashirsha Purnima,Dattatreya Jayanti
16
Tuesday
Dhanu Sankranti
18
Thursday
aphala Ekadashi
AstroSage's Hindu Calendar 2014 has covered everything from January to December, from Chaitra to Falgun, every auspicious day, every chaturthi, every pradosh. Hindu Calendar 2014 has the input from most expert astrologers who have put in their precious mind and time is making this Hindu Calendar 2014. With this Hindu Panchangam, you will have the opportunity to foresee what 2014 has in store for you, and plan your year accordingly. Know in advance all the holidays lined up, the festivals lined up and shop and make merry with family and friends.
We guarantee that all the dates and information provided is accurate and you can trust our Hindu Calendar for 2014 wholeheartedly. Use This Hindu Calendar 2014 to its fullest and enjoy celebrating every festival that comes in 2014 with family and friends to make it more special. Wishing everyone a happy 2014!