Nag Panchami Festival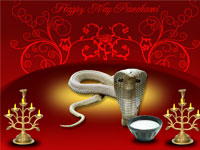 Nag Panchami is a festival celebrated all over India with great amount of vigour and devotion. It is a festival that has many myths, facts and legends attached to it. The festival falls on the fifth day of full moon fortnight during the Hindu month of Shrawan (also known as Savan). This year Nag Panchmi is on 4th August (Thursday) 2012. Shrawan is a month that is especially auspicious for the worshippers of Lord Shiva, the Hindu deity represented having a snake wrapped around his neck. Belief has it that Lord Shiva loved and blessed snakes and so pleasing the snake is actually a way to please him, and ask for his blessings. There are many different reasons for worshipping snakes and offering milk and flowers to the snake god, especially the Cobra locally called the 'Nag' on this day . So, like every year this year too you will see people visiting the Shiv temples to worship the stone or metal icons of snakes seek the blessing of 'Nag Devta,' to prevent their families from snake bites and bless them with peace and well being.
We are here to share with you interesting details about 'Nag Panchami', bringing you closer to understanding the significance of this ancient Indian Festival . Get answers to all your questions like why is this festival celebrated? What is the legend behind it? Why do people feed milk to snakes, can celebrating Nag Panchami rid an individual of Kaal sarpa yoga? What to do not do on Nag Panchmi? What is the significance of 'Dana' (donation) on Nag Panchami? Why does the ancient Indian text, the Puranas talk about charity on this day ? Indeed, it's always more fun celebrating an occasion when you know its relevance and understand the importance of a particular festival, tradition, ritual. So let us together find meaning in our celebration related to Nag Panchami, and carry forth our tradition from one generation to another.