Aquarius Horoscope‌ ‌2021‌ ‌ ‌
Aquarius Horoscope 2021 by AstroSage offers Aquarius ‌life predictions 2021‌ which shed light on several important occasions, situations and circumstances in the lives of Aquarius natives in 2021. At the beginning of this year, you will attain immense success in your workplace. The months of September and December proves to be highly profitable for you. As per Aquarius Yearly Horoscope ‌2021, there are high chances of businessmen and merchants enjoying financial benefits during this time. Although try and avoid trusting others during June-July. This year seems to incur unfavourable outcomes for Aquarius natives in financial life as the conjunction of Saturn and Jupiter will give rise to an unexpected increase in your unwanted expenses. Astrology Predictions 2021 indicate the Aquarius natives to remain cautious when making any transactions during this time as there are chances of monetary loss.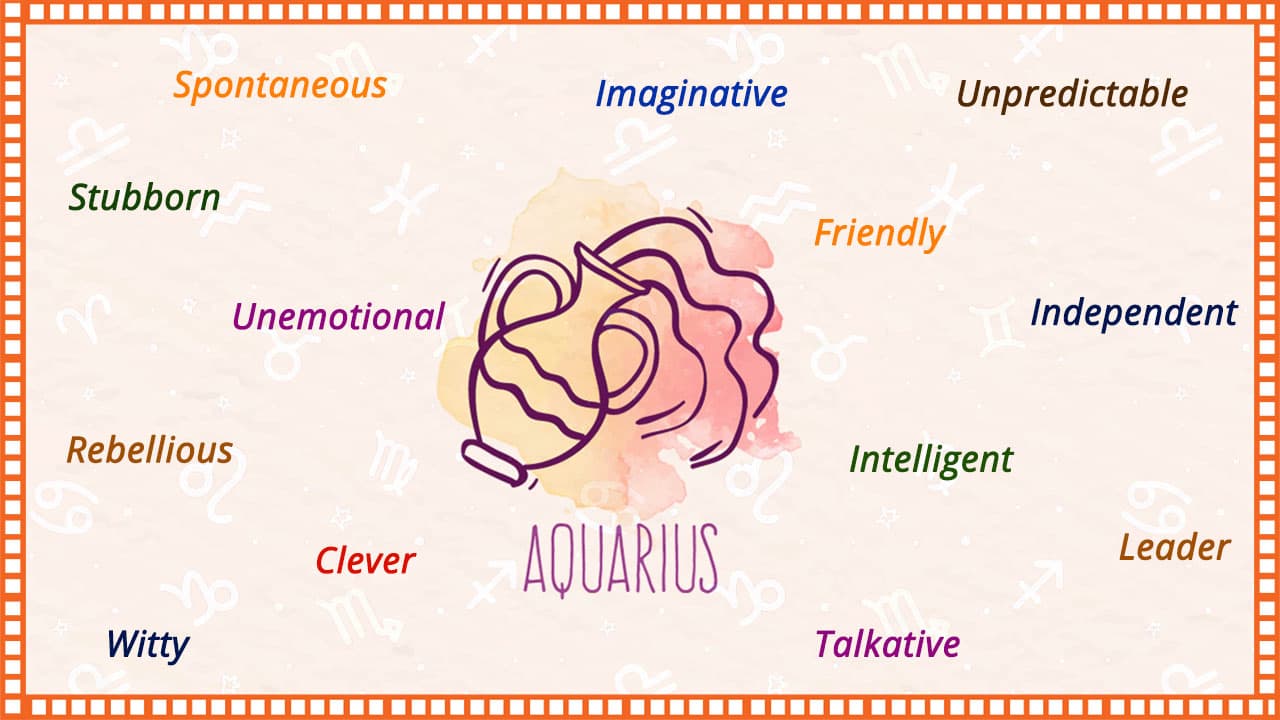 Talking about students, the year is going to be very favourable for them. You will get the fruits of your hard work, but Shani Dev will make students who are preparing for competitive exams wait a little longer. Students will be supported by their teachers at this time. Talking about family life as per Aquarius Yearly Horoscope ‌2021, you will get less favourable results this year. You may have to move away from your family due to some reason, and the new place can make you feel uncomfortable. Any of the chronic diseases can make a comeback in case of your father, which may stress you out
According to Aquarius Horoscope‌ ‌2021‌, the year 2021 will be good for natives who are married. You will attain the support of your spouse, with the help of which you will succeed in gaining wealth as well as respect. In this duration, every argument and dispute between you too will come to an end. Luck will favour your children and they will be able to perform well in their studies or work. Time seems extremely good for your love life. You will strive towards strengthening your relationship with your beloved and may tie the knot after mid-year. As per Aquarius Yearly Predictions 2021, your partner will have to go away from you at the beginning of the year due to some reason. In such a situation, stay updated about their whereabouts and share your feelings with them as well
Due to the impact of planetary transits, this year is going to be average for Aquarius natives in terms of health, as they will continue to face minor health-related troubles occasionally due to the aspect of Saturn. Treat them well and remain alert during the time from April to December as revealed by 2021 Yearly Horoscope for Aquarius natives.
Aquarius Career Horoscope 2021
In 2021 the career horoscope shows planetary combinations that the career for Aquarius will skyrocket this year. Nothing is going to keep you from being exceptional. Essentially, this is your year. Do something that you need and it will be useful to you to a large degree. You would have an increase in pay, growth, expansion of your market divisions and duties. Your seniors will advise you and your work will be respected. You should hold a separation from individuals you feel certain about from the long period from May to November.
Aquarius Finance Horoscope 2021
Aquarius guys in 2021 will earn a solid financial contribution by the aquarius finance horoscope 2021. Yet planets will also tip the financial equilibrium. Natives are therefore advised not to indulge in luxury for now but to live within their means. As the year goes by, money will come better and the finances will get greater. It would meet your regular costs but not much would be left to save.
Aquarius Education Horoscope 2021
Students will achieve moderate to favourable academic performance by 2021 with the Aquarius Education Horoscope. In April, in particular, you will receive high quality test results which will inspire and boost your spirits. However it does not look as if time is favourable for students preparing for competitive tests, as this time they will have to work harder than before to obtain good results.
Aquarius Health Horoscope 2021
In 2021 the people of Aquarius promises a year for good health and cheer. You will be burdened by the stamina and resources you invest the days ahead. Your mental makeup will ensure your health is also physical. However some deficiency paves the way for some health problems to occur occasionally according to aquarius health horoscope 2021. Using a faster surgical procedure and better health insurance will quickly help you recover.
Aquarius Marriage Horoscope 2021
In this year's Aquarius Marriage Horoscope 2021, married indigenous persons will achieve normal outcomes, as ups and downs in marital life remain positive while things will remain positive. Marital indigenous people will benefit from their partner, especially in January. Your spouse's continuously changing behaviour will add to your mental stress between April and May. In addition, the time seems unfavourable from July to August. You must be safeguarded from any kind of discussion or debate during this period.
Aquarius Family Horoscope 2021
The year 2021 aquarius family horoscope, will be in your fourth house for the whole year, will turn out to be very unfavourable in the family life. This will impede the happiness of your family. Often because of excess work and busy schedules, you may have to abandon your family or go on a work trip. Pluto will inspire you at Capricorn to let go of whatever holds you back.
Aquarius Lucky Number 2021
For 2021 Aquarius lucky numbers are 5 and 8. There is no counting of openings according to the Aquarius horoscope 2021 that will open in 2021. Now is the time for sincerity to take advantage of this golden time and make it unforgettable in your life. With joy, stability and much more, every field gives you unpredictable results. You will do plenty of new stuff in the new year for the family.
Aquarius Horoscope 2021 - Astrological Remedies
Wear Venus-ruled Diamond gemstone or best quality Opal on any Friday. This will help you attain good fruits.
You should wear these gemstones in a silver ring only on the ring finger.
If you suffer from any health-related problems, then one of the useful remedies as per Aquarius Horsocpe 2021 is to adorn a Bicchoo Jadi or Dhatura Jadi or Root on your right arm or around the neck on any Saturday.
Wearing Char Mukhi (four-faced) or Sath Mukhi (seven-faced) Rudraksha will also prove to be auspicious for you.
Feed the bread daily to the cow and offer water to the Peepal Tree every Saturday without touching it.
Offering flour to ants on Saturday will help to get rid of several problems..
In case you are unable to succeed in any of your tasks, then it will be beneficial for you to provide a full meal to any handicapped person.
Every Friday, worship Goddess Mahalakshmi and recite the path.
For Astrological Remedies & Services, Visit: AstroSage Online Shopping Store
Thank you for connecting with AstroSage!!
Frequently Asked Questions
1. Is 2021 a good year for Aquarius?
The year 2021 according to the Aquarius 2021 Horoscope is said to be favorable and prosperous for Aquarius natives. Especially for their love life, things will go in the right direction. However, at the beginning of the year 2021, Aquarians may have to face separation from their partner for a while due to long-distance traveling.
2. What is the symbol that represents the sign Aquarius?
A Man With A Water-Pouring Pitcher is the symbol that represents the zodiac sign Aquarius. It is known as Kumbha in Hindu Vedic Astrology.
3. What days are unfavorable for Aquarius natives?
Tuesday and Sunday are considered unfortunate for Aquarians.
4. Who can be considered as an Aquarius soulmate?
Air signs Libra and Gemini can be the perfect signs for Aquarius natives to fall in love.
5. Which Yantra must be installed by Aquarius natives?
As per Horoscope 2021 Predictions, Shani Yantra must be installed by Aquarius natives to curb the malefic effects f Lord Shani and overcome financial troubles.
6. What are the birth dates for an Aquarius?
Since Capricorns symbolise the Erath element, they prefer eating Calcium-rich foods, raw vegetables and fruits, fish and eggs, lean protein and much more.
Under The Tropical Zodiac, Between January 21 and February 20
Under The Sidereal Zodiac, February 15 to March 14
Buy Gemstones


Best quality gemstones with assurance of AstroSage.com
Buy Yantras


Take advantage of Yantra with assurance of AstroSage.com
Buy Feng Shui


Bring Good Luck to your Place with Feng Shui.from AstroSage.com
Buy Rudraksh

Best quality Rudraksh with assurance of AstroSage.com