Venus Transit in Scorpio (January 1, 2019)
Venus, also known as Shukra Graha in Hindi, represents love, beauty, and wealth. It rules Taurus and Libra zodiac signs. Venus remains exalted in Pisces and debilitated in Virgo. The planet Venus signifies the lover or spouse of the native. It is associated with fertility and sexual health. A benefic Venus endows upon the native beauty, prosperity, love, and wealth. On the other hand, a debilitated Venus results in poverty and perverted habits. Venus stays in one Zodiac Sign for 28 days. The planet will transit from Libra to Scorpio on January 01, 2019 (Tuesday) at 20:30 and will remain posited till January 29, 2019 (Tuesday) at 23:17. At 23:18, it will move forward and make a transit from Scorpio to Sagittarius on the same date, i.e. January 29, 2019 (Tuesday). This transit will mark a major impact on various aspects of one's life. Let's find out what the transit holds for you.
Predictions are as per your Moon Sign. Know yours: Moon Sign Calculator
हिन्दी में पढ़ने के लिए यहाँ क्लिक करें…
Aries
Venus will move into the eighth house. During this transit, you will develop charismatic communication skills, which will attract the opposite sex towards you. Gaining a house under your possession may add to your luxuries. Because of the position of Venus, you will develop interest in sensual activities. Basking in luxuries and comforts will be in your to-do list. You might want to increase the aesthetic appeal of your house and may purchase lacquer and related stuff for the same. There is a whole bunch of surprises waiting for you during this period. A meeting with your in-laws is on the cards.
Remedy: You should donate white sandalwood.
Taurus
Venus will move into the seventh house. This transit might lead to issues with the people of opposite gender, including your spouse or loved one. You will develop an inclination towards sensual activities. There are chances of you getting hurt due to someone of the opposite sex. Thus, you should be cautious while dealing with them. You should remember that prevention is always better than cure. Those who are married will spend romantic moments with their spouse. Love couples will have an ecstatic love life.
Remedy: Reciting Sri Suktam will be beneficial for you.
Gemini
Venus will move into the sixth house. This might turn out to be an alarming period for you. If you do not take necessary precautions, you might end up getting entangled in health problems. There are chances of disputes and conflicts, which you will be required to keep at bay by all possible means. You should not indulge in any unethical or immoral deed as it can tarnish your image. You will have a lavish lifestyle. You will spend on materialistic comforts. Your enemies will have the chance to overpower you. Thus, you need to safeguard yourself against their moves. Your seniors may not be supportive during this stretch of time. Do not trust the information that reaches you by the grapevine channel of communication.
Remedy: Venerate Goddess Durga with white flowers.
Cancer
Venus will move into your fifth house. The transit will mark the beginning of a happy period for Cancerians. You will cherish the existence and company of your kith and kin. This will be a period of riches for you. The colors of love and romance will brighten up your dull life. You will have an upper hand over your opponents. Your artistic skills will help you garner praises. They may also help you in making money. You will be more inclined towards music and glamour. Love will be the essence of happiness for you in this period.
Remedy: You should worship Lord Shiva by offering rice. Respecting women will help you during this period.
Leo
During this period, Venus will move into the fourth house. You will have a peaceful family life and enjoy the company of your family and friends. You will be blessed with the comforts and pleasures of life. Your ego may sour your relationships. Thus, it should be kept in check. You will gain power and recognition during this period. You will be dedicated towards your work. Switching your job may turn out to be favourable for your career growth and development.
Remedy: Worshipping Lord Shiva with Khus Perfume will pan out to be favourable for you.
Virgo
Venus will move into the third house, which will result in frequent wealth gains. You will gain respect in the society. You may set your foot on short distance journeys. The knowledge that you possess will make you stand out from the crowd. You will be possessive about your fashion sense and dress up in the best clothes. You will have an upper hand over your enemies. This period will bring you some good news. There will be times when unfavorable vibes will be hovering over you. However, your lucky stars will smile upon you and help you to bring an end to all your woes. You may get one step closer towards achieving a major goal of your life.
Remedy: Worship Goddess Durga with unwavering devotion and offer Kheer to appease her.
Libra
Venus will move into your second house as it transits into Scorpio. This transit may add a new family member in your life. Chances of a childbirth are high. Gains through ancestral property are on the cards. You will enjoy the luxuries of life and develop an interest in flowers, precious stones, gems, and music. You will tantalise your taste buds by trying various tasty foods and adding them in your diet. Your sweet voice would further add to your charismatic personality.
Remedy: Offer sweet Mishri to little girls and seek their blessings.
Scorpio
Venus will move into your own sign. This will mark the beginning of a period when you will develop an interest in materialistic comforts, flowers, fashion and beauty, and fragrances. You should not be disrespectful towards others, otherwise, you may end up spoiling your relationships. The company of the opposite sex, the luxuries of life and delicacies will appease you. Your marital life might be disturbed because of tiffs with your spouse. You should not let these seep into your bond of love. Foreign connections will turn out to be favourable for you.
Remedy: On Fridays, you should donate batashe at the temple of any Goddess.
Sagittarius
Venus will move into the twelfth house. During the transit period, you are likely to develop perverted habits. You should not let perversion take its toll on you, otherwise, your image in the society will be tarnished. To have a better standard of living, you may end up spending more than the required money. This uneconomical approach may put a strain on your pocket. You may set your foot on a new journey. Starting a novel venture during this transit period will help you to reap the desired results.
Remedy: You should perform Shri Shiv Rudrabhishek with curd.
Capricorn
Venus will move into the eleventh house during this transit, which will give rise to an affluent period of your life. You will enjoy wealth and prosperity, owing to your friends. Exotic perfumes and branded clothes will be the highlights of your lifestyle. You will be able to befriend many people. Friendships with the opposite sex will be no exception. Sudden monetary gains will brighten up your mood. Love and romance will add the spark that you need in your life.
Remedy: Recite Durga Chalisa and offer white prasad.
Aquarius
Venus will move into the tenth house. This may get you entwined in arguments and conflicts, which may drain your energy and waste your time. You should try to avoid getting involved in such circumstances, otherwise, you may tarnish your reputation. Do not become a part of gossip groups as it will eventually lead to problems. You may have some issues with people of the opposite gender. Talking about your married life, it can be predicted that you will have to try hard in order to achieve marital harmony. Your lucky stars will shine bright and help you to sail through difficulties. You may have a promotion or transfer in your job.
Remedy: Chant the Mantra- "Om Dram Dreem Draum Sah Shukraya Namah".
Pisces
Venus will move into the ninth house, which will give rise to a period of spirituality for you. You will develop a spiritual bent of mind and be inclined towards performing religious deeds. You will be required to take care of your father's failing health, which may degrade if not taken care of properly. Your love life would be ecstatic. Resolve some issues popping with your siblings. You will strike it rich during the period of this transit. You will spend on clothing and fashion.
Remedy: You should donate sugar to priestess on Fridays.
We, here at AstroSage, hope that the transit brings a period of happiness and prosperity for you. May you achieve what you aim for!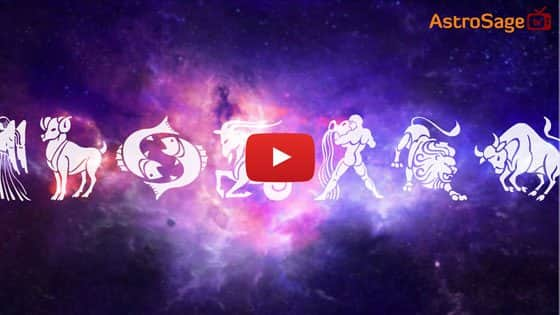 Buy Gemstones

Best quality gemstones with assurance of AstroSage.com
Buy Yantras

Take advantage of Yantra with assurance of AstroSage.com
Buy Feng Shui

Bring Good Luck to your Place with Feng Shui.from AstroSage.com
Buy Rudraksh
Best quality Rudraksh with assurance of AstroSage.com