Devi Katyayini - Devi Katyayani is Worshiped on Sixth Day of Navratri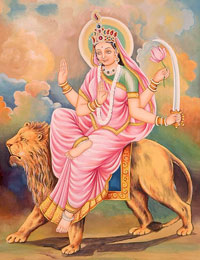 Chandra Hasojvalakara Shardul Var Vahna |
Katyayini Shubham Dadhya Devi Dan Vaghatini ||
Divine Goddess Katyayini is the sixth manifestation of Durga and one of the prominent deities among Navdurga. She is grandly Worshiped on the sixth day of Navratri pooja. Her appearance is immensely majestic and divine. She is represented with four-arms. Her upper left hand holds sword and lower left hand represents lotus-flower. Her upper right hand is in Abhaymudra, and lower right hand is in Barmudra. Lion is her procession. Her appearance is imagined with pink Saree wearing white rosary on her neck. Goddess Katyayani also represents divine power for demolishing tyranny and torments of demons and giants. Worshipping this Goddess on the sixth day of Navratri Puja bestows desired husband and accomplishes other true wishes. Worshippers and Sadhak enters in 'Agya Chakra' worshipping Goddess Katyayini on the sixth day of Navratri Pooja. Her grandeur is infinite. She is highly generous toward her worshippers and devotees.
According to Hindu Mythology, it is believed that long time ago there was a renowned sage called 'Maharashi Kat'. Rishi Katya was son of Maharshi Kat, and under clan of Katya a prominent rishi was born with name 'Katyayan'. Rishi Katyayan was a great devotee of Devi Bhagwati (Durga) and performed eras of hard penance to delight her. When Goddess Bhagwati was pleased by his devotion, he prayed Goddess to take birth as his daughter. Goddess Bhagwati accepted and accomplished his wish. At home of Rishi Katyayan, Devi Bhagwati was born as his daughter. After some eras, when tyranny of demon Mahisasur crossed the limitation, all deities including Brahma, Vishnu and Mahesh requested Devi Durga to end the torment of Mahishashur. Devi Katyayani (manifestation of Durga) took this horn on her shoulder and destroyed devils. Being the daughter of her great devotee Rishi Katya, she became prominent with name 'Katyayini'.
Delightful Devi Katyayini bestows copious fruitful results to her devotees. On the auspicious sixth day of Navratri Pooja, devotees grandly perform Pooja and offer customs, rituals to this divine Goddess. It is also believed that while worshipping Devi Katyayini on the Shashti (sixth day) of Durga Pooja, devotees feel presence of Agya Chakra in their mind and soul. Agya Chakra shows the light to devotees to completely sacrifice everything for Goddess Katyayini. Through this Chakra, devotees get influenced for Sampurna Atmadan (Absolute self-sacrifice) at asylum of devi Katyayini. The feeling of absolute self-sacrifice wins heart of this divine Devi and she accomplishes true desires of her devotees. Her regular devotees certainly get eminent position on earth. Offer your devotion and dedication to majestic Devi Katyayini on sixth day of Durga Puja and get glorious fruits. Jai Katyayini Maa!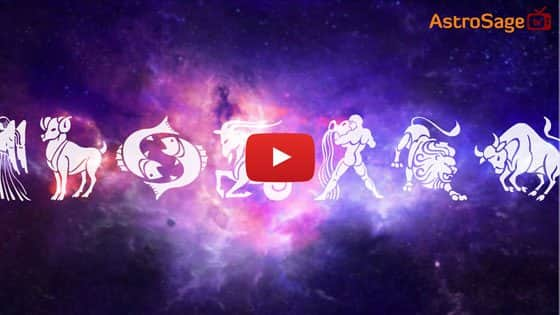 Buy Gemstones


Best quality gemstones with assurance of AstroSage.com
Buy Yantras


Take advantage of Yantra with assurance of AstroSage.com
Buy Feng Shui


Bring Good Luck to your Place with Feng Shui.from AstroSage.com
Buy Rudraksh

Best quality Rudraksh with assurance of AstroSage.com