Sun transit in Cancer 16 July 2020
The Sun will transit into the sign of Cancer on Thursday, 16th July 10:32am IST and will remain in this sign till Sunday, 16th August 2020 18:56pm.
Let's see how this transit of the Sun is going to impact all the zodiac signs
Find your Moon sign with Moon Sign Calculator !!
Click Here To Read In Hindi: सूर्य का कर्क राशि में गोचर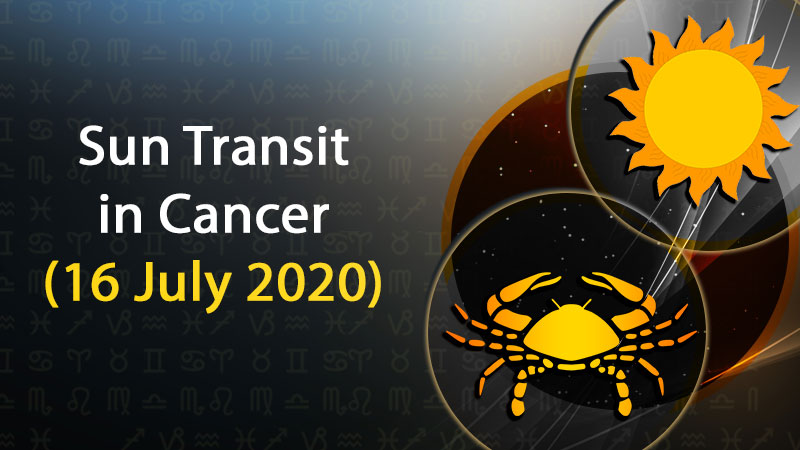 Aries
The Sun is transiting in your fourth house which represents your inner self, home, comforts, and Mother. As an Arian, you like to initiate things quickly, but in this transit things may get delayed a bit. Due to this, over aggression and frustration may overcome you, that you may vent on your family members. It can result in disrupting your peace of mind and family atmosphere as well.
You may feel a little insecure regarding things, especially finances and may even start to doubt your own abilities. This will bring in a feeling of isolation and you might see yourself leaving things in between. You could be given some assignments that may not interest you, which may bring certain disagreements with Senior management. So, try and avoid any confrontations and clashes within your workspace. Our suggestion to you would be to do every assignment with sincerity as anything you do teaches you something.
In this duration, land and property matters may also get delayed and will bear no fruition, so it will be better to not to take them right now. As this can lead to a lot of wastage of time and energy. However, it will bring in auspicious results for your partner, they are likely to get betterment in their profession and status. The main message of this transit is to wait patiently for things to happen rather than pushing them, then the results will start to appear.
Remedy: Keeping a flower pot of copper metal filled with Roses in your living room will bring auspicious results.
Taurus
Taurians will see an increase in their courage and valor as the Sun is transiting in your third house of efforts, courage, and siblings. You are a very hardworking and prudent sign. And in this transit, you will not shy away from putting in efforts to achieve your desired goals and ambitions. You will always be driven to be number one in all your ordeals and tasks, which is likely to give you an edge over others.
Professionally, those of you who are looking for pay hike and promotion are likely to get good news. This is the transit that is likely to bring prosperity, health, and wealth. The Sun is the lord of your fourth house which indicates home, and the Sun is transiting the twelfth house from itself, which indicates that travels and journeys will bring auspicious results. You will be filled with a surge of energy that will help you in moving out of your comfort zone. This will make you try out different new things eventually leading to success and rewards.
It will also be a very good time to spend with your siblings and mend communication gaps with them, if any. One thing to take care of in this transit will be that the third house represents your hearing capacity and as the Sun which is sometimes called a cruel planet, can hamper your hearing capacity.
Remedy: Feeding Jaggery to cows on Sundays will bring auspicious results.
Gemini
Gemini natives by innate nature are charming storytellers, but the transit of the Sun in your second house of speech can make you sometimes harsh in terms of speech. This can create unnecessary trouble and disturbances in your family life. As the Sun is a dry planet and is positioned in the house of Savings, this indicates that you may face some saturation or some blocks in terms of finances in this duration.
You may be required to put in a lot of effort in order to realise your goals and ambitions. This transit is also not promising to start any kind of new investments or deal based on any kind of speculations. As this may result in losses and financial troubles.
Since this house represents your food habits as well, the position of the Sun here indicates that you have to take care of your eating habits, otherwise, it could result in some health issues, especially related to abdomen. This also indicates that eye related trouble could be there, so do not put too much strain on them. However, if your siblings are looking for any foreign settlement or are working in any multinational company, then this duration can bring some good news for them.
Remedy: Chanting of the "Gayatri Mantra" especially during sunrise will bring auspicious results.
Cancer
Cancer natives will host the transit of the Sun in their ascendant, which enhances your leadership and administrative qualities. This will make you more systematic and methodical in approach. It will help you in completion of pending tasks and endeavors. This transit of the Sun will make you more warm-hearted and protective towards your loved ones. However, there could be some difference in opinion and grievances with your father which can sometimes disrupt the family environment.
As the Sun is also aspecting your seventh house, it indicates that there could be some ego clashes with your spouse, which can cause ups and downs in your relationship. This could be because you may have some sharp reactions, and you might let your pride in your decision making, which can have a negative effect. So, be a little patient and do not let your hubris dominate your decision-making power.
If you have any previous history of heart diseases, blood pressure, then no negligibility on the health part should be there, because this transit can further aggravate the issues. Hence, inculcating yoga, Meditation, and physical activity is of paramount importance. It will help you in channelising your energy in a positive direction.
Remedy: Offering Arghya to the Sun in the early hours of the Morning will bring auspicious results.
Leo
The health of Leo natives will require special attention as the Sun is transiting in your twelfth house of expenditures and foreign travels. This transit may lead to wavering confidence, doubt on your own abilities, which can result in your low self esteem. Because of this, you might make decisions seeking validation and appreciation from others, rather than seeking contentment and happiness from the workplace. This might make you take hasty decisions resulting in wasting your energy in the wrong direction rather than utilising it properly.
In this transition, try not to do anything that is against the law or in violation of the rules, as it could create unnecessary problems for you. Professionally, this is not the right phase for you to make any new decisions, rather keep a low profile and learn from your past mistakes.
Financially, not a good period to indulge in any kind of investments.It can result in loss of both, your savings and peace of mind. Be more practical and rational in terms of decision-making and avoid any kind of emotional decisions. Personally, this period can sometimes make you aggressive and self-absorbed, which can create some temperamental differences with your partner. So, try and be calm and have a transparent communication with your partner. This will help you in terms of personal life.
Remedy: Wearing Star ruby on your right hand ring finger (8-9 cts.) set in copper or gold on the Sunday will bring auspicious results.
Virgo
The Sun positioned in your eleventh house is likely to be a very favorable transit for virgo natives. If you are indulging in import-export or are working in any foreign organisation, benefits and profits will be aplenty for you. Professionally and financially, sudden gains and profits can be expected in this duration, this is likely to improve your economic position.
You may also get benefits from your father, father-figures, and government agencies. If you own a business in the form of partnerships, it is likely to bring profits and income. Whereas working professionals of this sign will get proper recognition and validation of their efforts. Any kind of journeys and travels especially undertaken for professional purposes, is likely to bring good gains and success.
On the health front, there are good chances of a speedy recovery from any illness or problem that may have been bothering you for a while. On the relationship front, some new energy in relationships will be there. On the whole, this is a promising transit for you both personally and professionally. But this position of the Sun can sometimes make you a little rigid in approach which is not your innate nature and this may stop you from receiving the creative solutions to the problems that you are facing.
Remedy: Reciting the "Surya Ashtakam" stotram in praise of the Lord Sun especially in the wee hours of the Morning will bring auspicious results.
Libra
Libra natives will have the Sun positioned in its directional strength in their house of profession and career also the tenth house, which is an auspicious position for this luminary planet. This is likely to make you more action-oriented and boost up your leadership and administrative skills. These are likely to help you in completing pending tasks and accomplish new tasks with efficiency. As a result, you will be held in good stead among your higher management. You can be awarded with new roles and responsibilities, new positions of authority in your organisation.
Benefits from father and government agencies are also on the cards. It indicates that those students preparing for government organisations or seeking government jobs, are likely to get auspicious results. The property matters are also likely to bear good results. This transit will also provide good ground for you to acclaim respect in your social circle.
Health issues are also likely to get restored during this transit of the Lord Sun. However, Sun in this house can sometimes make you dominant and self-righteous in your attitude, which can create some temperamental issues in both personal and professional lives.
Remedy: Taking blessings from your father or father figures like your mentors, idols before going to any special assignment.
Scorpio
The position of the tenth house lord, the Sun in your ninth house may bring some unwanted delays and difficulties in the profession. This is because the Sun is placed in its twelfth house from its strongest position. It may also result in some grievances or problems with your father or father-like figures like your mentors, idols. In this duration, try and not to do anything that is in violation of the law, otherwise you can get yourself in big trouble.
Professionally, you might get caught up in false accusations at work, which can be a cause of worry and anxiety for you. As the Sun is aspecting your third house of communication, it can sometimes make you straightforward and harsh in speech, resulting in issues with your family and spouse.
This position may also be a little tough on the finances part, so managing your resources is of paramount importance during this transit. Try and avoid any kind of journeys especially spiritual journeys, as it is not likely to bear fruitful results. On the health part, knees and legs can be a cause for worry.
Remedy: Reading the "Harivansh Puran" will bring beneficial results during this transit.
Sagittarius
The Sun will transit in your eighth house of uncertainty and transformation, which can be a little tough phase for Sagittarius natives. There could be some unnecessary losses which might create some insecurity regarding finances.
Professionally, problems from senior authorities or government can be there. Moreover, your enemies can create hurdles in your path which can slow down the pace of your growth. In this duration, avoid any kind of debts and liabilities.
This transition of the Sun can also create some legal issues which can destroy your mental peace and harmony. You can also be a little harsh in terms of speech which can create some differences with your family especially in-laws, thus creating ups and downs in your personal life.
On the health front, predictions are not indicating much positive results either, and there are chances of accidents. Our advice to you on this part is to drive safely at this time. As the Sun is directly aspecting your second house, which represents your eating habits, so try and take care of your diet. Otherwise, you can face some problems related to teeth and abdomen. However, it is a very good phase to indulge in yoga, meditation, as it will help you in establishing connection with yourself. This will lead you to discover your hidden potentials that you would not have noticed earlier.
Remedy: Wearing a small piece of the root of the "Bel" tree in white thread in your neck will bring auspicious results.
Capricorn
The Sun positioned in your seventh house of partnerships and spouse may not bring desired results for Capricorn natives. Professionally, this position of the Sun may result in some work area disputes with your colleagues and senior management, which can cause some mental tensions and worries.
If you own a business, some disputes in partnerships will be there. Your competitors might have an upper hand over you during this transit. There are going to be some unnecessary delays which can cause distress and make you sometimes feel helpless.
Journeys should only be undertaken if necessary, as this duration will not offer any favourable results, both in terms of your income, as well as success. As this house represents society, you need to toe the line of decorum, otherwise it may besmirch your image.
For unmarried natives, the partner may sometimes try to dominate the relationship, which can lead to some arguments between you two. For married natives, the health of your spouse can be a cause for worry and concern for you.
Remedy: Using copper glass to drink water will bring auspicious results.
Aquarius
Position of the Sun in their sixth house of competitions and enemies is likely to bring auspicious results for the Aquarius natives. Your competitive skills will be sharp during this transit which will give you an edge over your competitors. You are likely to get success in all your tasks and endeavors.
If you are looking for a new job, there are going to be many opportunities during this transit. However, your professional status is also likely to increase in the company where you are currently employed. This is because the Sun will present you with many opportunities that will help bring the main strength of Aquarians, i.e., networking and innovation come to the forefront.
Undertaking journeys, especially those related to your profession, is likely to bring gains and profits. The Sun in this position also gives you an upper hand in lega; matters. On the health front, your resilience and resistance power will increase that will for sure see you in the pink of the health during this duration. However, the wellbeing of your spouse can be a cause of worry during this duration.
Remedy: Eating almond and offering it to the poor will bring beneficial results.
Pisces
Pisces natives might see their plans going haywire as the Sun will be positioned in their fifth house of planning and intellect. Professionally, there may be transfers or delegations in your work area that were not expected. There are going to be some issues or differences of opinion with the senior management, which can create unnecessary stress and tension.
You are going to be faced with certain scenarios in which enemies or your competitors might target you and try to drag you down. So, be aware and alert during this duration and remain optimistic, which is already your inherent nature. In terms of your personal life, the position of the Sun can sometimes make you inflexible in nature. This can cause some temperamental differences and ego clashes in your relationships.
For married natives, they are going to get easily annoyed and irritated even at the behest of small issues. This is going to result in disruption in the home environment. You have to remember not let your rigidity take over your basic Pisces nature, i.e., flexibility in approach. In terms of your health, acidic or gastric issues can give you some problems. So, try and stay away from fried, spicy, and junk food.
Remedy: Reciting "Aditya Hriday" Stotra in the morning will bring auspicious results.
For Astrological Remedies including Gemstones, Yantra, etc., Visit: AstroSage Online Shopping Store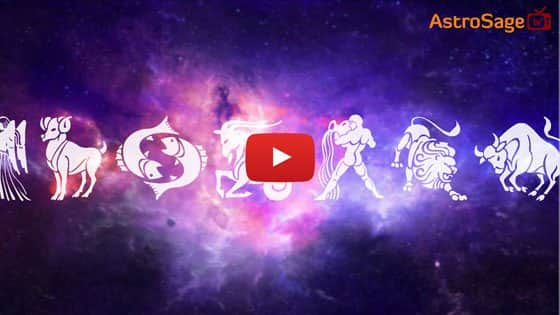 Buy Gemstones

Best quality gemstones with assurance of AstroSage.com
Buy Yantras


Take advantage of Yantra with assurance of AstroSage.com
Buy Feng Shui

Bring Good Luck to your Place with Feng Shui.from AstroSage.com
Buy Rudraksh


Best quality Rudraksh with assurance of AstroSage.com