Rudraksha Calculator: Wear The Right Rudraksha As Per Birth Chart
Rudraksha Calculator is a calculator that analyses and tells a person about the right Rudraksha to be worn according to his/her birth chart. Many of us are deprived of such information and have questions such as "Which Rudraksha is right for us or which Rudraksh should we wear?" There are different types of Rudraksha and it should not be worn without proper knowledge, hence AstroSage introduces Rudraksha Calculator for people who do not know their suitable Rudraksha according to their horoscope.
Enter Your Birth Details
What is Rudraksha?

Rudraksha is a kernel of a fruit or as said a type of seed. Usually, this tree is found in hilly areas. According to religious beliefs, Rudraksha originated from the water glands of Lord Shiva's eyes. It is believed that after severe austerity, when Lord Shankar opened his eyes, some tears came down on the Earth and Rudraksha tree was born from those tears.
Rudraksha is composed of two words, "Rudra" and "Aksha". Rudraksha is considered to be a symbol of Lord Shiva, as "Rudra" is a name for Lord Shiva and "Aksha" means "tear". That is why it is said that the person who adorns Rudraksha is dear to Lord Shiva.
Rudraksha is also used within the spiritual realm. By wearing it, the person attains positive energy. Rudraksha is a boon by Shiva which has been revealed to eliminate the physical grief of the world.
Types of Rudraksha
To make sure that there are numerous types of Rudraksha is extremely difficult. According to experts, Rudraksha are up to 14 Mukhi but Shiva Maha Purana suggests that Rudraksha ranges up to 38 Mukhi. Usually, only 21 Mukhi Rudrakshas are identified and seen. Let's know different types of Rudraksha"
According to the scriptures, Ek Mukhi Rudraksha, also written as 1 Mukhi Rudraksha, is considered to be the physical form of Lord Shankar, which is very rare and difficult to attain. Ek Mukhi Rudraksh eliminates the defects associated with Sun. By wearing this, one gets rid of eye diseases, heart disease, stomach problems and obstacles associated with bone. By wearing this Rudraksha, liberation from worldly, mental and physical sufferings is assured. It proves more fruitful for Cancer, Leo, and Aries natives to wear.
Do Mukhi Rudraksha or 2 Mukhi Rudraksha is considered as the form of Gauri-Shankar and fulfills all kinds of wishes. This Rudraksha relieves one from brain, heart, lung, and eye related diseases. It is believed that Lord Ardhanarishvara gets pleased if one wears it and bless with happiness, peace and prosperity in marriage.
Due to wearing and worshiping this rudraksha regularly, the sin of cow killing or Gau Hatya also gets eliminated. If there is a delay in marriage of a young man or woman, then adorning this Rudraksha will soon provide auspicious results. Two-face Rudraksha is very beneficial for Cancer natives.
The three-faced Rudraksha, which offers pleasures and luxuries, is considered as the form of God Agni. This Rudraksha works to create new emotions in one's monotonous life. Wearing this Rudraksha also gives freedom from sins such as female murder. It is very beneficial for all diseases associated with stomach.
Chaar Mukhi Rudraksha represents religion, meaning of life, work and salvation and grants the wish of having children. This Rudraksha intensifies the intelligence of a common person and also helps in removing any disease from the body. By wearing Four Faced Rudraksha, the art of attracting people along with speech improves.
With its help, success is achieved when studying Vedas and religious texts. According to Shiva Mahapurana, those who want freedom from the sin of animal slaughter should wear this Rudraksha for a long time and chant the Beej Mantra for Lord Shiva.
The Five Mukhi Rudraksha, which bestows happiness, is said to be the most prosperous one. It has been said that this Rudraksha is the most beloved of Lord Shiva, that is why it is considered the most auspicious among all Rudrakshas. According to the scriptures, the Panch Mukhi Rudraksha is considered to be the place where Panchdev dwells.
Jupiter is the relatable planet for this rudraksha. Hence, by wearing this Rudraksha, problems arising due to Jupiter planet gets automatically removed. By adorning it, the person attains happiness and prominence. Also blood pressure and diabetes remain normal. This Rudraksha also benefits during stomach diseases and controls any wrong thoughts wriggling into one's mind, hereby providing good mental health.
The Five-Face Rudraksha is very beneficial for Aries, Cancer, Leo, Scorpio, Sagittarius and Pisces natives.
Chhah Mukhi Rudraksha, also called 6-Mukhi Rudraksha, fulfills the desire for liberation and having children and is considered as the form of Lord Shankar's son Lord Kartikeya. According to Shiva Mahapurana, if a person wears this Rudraksha duly and regularly performs puja, he can get rid of the sin of Brahmahatya.
Mental capability along with leadership qualities develops by wearing Six Faced Rudraksha. It is believed that if this rudraksha is duly worshiped and then worn, then the person receives special grace by God Kartikeya, which results in removal of all kinds of difficulties in life. Venus is considered to be the ruler of this Rudraksha.
Seven Faced Rudraksha represents seven saints who eliminates poverty. Mother Lakshmi always maintains her grace on the person carrying or wearing this Rudraksha. There is an increase in wealth in the house of the person. It is believed that Saturn influences the Seven Faced Rudraksha and by wearing it, one makes Lord Shani happy and attains his grace.
Due to being seven faced, this Rudraksha protects the seven saplings in our body and strengthens the immune system. That is why the person who is troubled by mental illness or joint pain must surely wear this Rudraksha.
Eight-faced Rudraksha or Aath Mukhi Rudraksha, which provides longevity and positive energy, is considered as the purest form of Lord Bhairav Dev and is ruled by Lord Ganesh. One attains the blessings of EIght Goddesses or Asht Deviyan by wearing this Rudraksh. The power to control the senses can be awakened by wearing 8 Mukhi Rudraksha.
This Rudraksha provides wisdom, knowledge, wealth and achievement to the native. By keeping/wearing this Rudraksha and worshiping it properly, liberation from the sin of enjoying female company can be attained. Eight-faced Rudraksha is related to the planet Rahu. To remove difficulties due to Rahu Dosha in the kundli or horoscope, please wear this Rudraksha.
The Nine Faced Rudraksha or 9 Mukhi Rudraksha, which emancipates from the fear of death, is considered a symbol of the nine powers of Maa Bhagwati. By wearing this, one pleases Kapil Muni and Bhairodev and attains power from Goddess Durga. The principal planet of this Rudraksh is Ketu, and therefore reduces all adverse effects in life due to this planet.
This Rudraksha enhances one's self-respect, pride and peace of mind. Being the form of Mother Durga, it also acts as a protective armor. Those people who worship Goddess Durga must bear this Rudraksha.
10 Mukhi Rudraksha provides peace and beauty and is considered as the truest form of Lord Vishnu. By wearing this Rudraksha, negative powers such as ghosts and paranormal obstacles remain away from the person. Well, those people who do tantra-mantra and sadhana must wear this rudraksh. Ten Faced Rudraksha relieves one from stomach diseases, arthritis, asthma and eye diseases.
The Eleven Mukhi Rudraksha bestows victory, wisdom and devotion and is considered a symbol of Lord Shankar's 11 Rudras. By wearing this Rudraksha, one gets blessings from the eleventh avatar of Lord Shiva, Lord Hanuman. If you want to develop your business, you must wear this Rudraksha. The 11 Mukhi Rudraksha also eliminates the fear of death and offers success in religious works like religious rituals, yagya-havan etc.
The Twelve Faced Rudraksha provides one with wealth and money and is considered as the form of Lord Vishnu. By wearing this Rudraksha, one gets rid of fatal diseases automatically. Due to its adornment, one attains benefits in heart, mind and abdominal diseases. 12 Mukhi Rudraksha gives liberation from great sins such as cow killing and gems thieving and protects you from all kinds of accidents.
The auspicious and beneficial Thirteen Faced Rudraksha is considered as the form of Lord Indra of Heaven. Kamdev's blessings are also obtained by wearing it. Holding on to 13 Mukhi Rudraksha also helps to develop skills related to subjugation or hypnosis. This Rudraksha gains favor of all the planets. People who doesn't have love and family happiness in their life must wear this Rudraksha.
The Fourteen Mukhi Rudraksha destroys all the sins and is considered as the form of Lord Hanuman. People who worship Lord Hanuman must wear this Rudraksha. By adorning this Rudraksha, ghosts and paranormal entities themselves leave the place. This makes the native energetic and healthy.
Apart from this, Ganesh Mukhi Rudraksha and Gauri-Shankar Rudraksha are also found. According to Hindu religion, every person should wear a Rudraksha bead.
Benefits of Wearing Rudraksha
As mentioned in the scriptures, Rudraksha is very dear to Lord Shiva. Therefore, people wear Rudraksha to make him happy and get rid of various kinds of miseries. Wearing the right Rudraksha do good for the person and unlimited positive and spiritual effects on his/her personality can be witnessed. Here are some important benefits of wearing Rudraksha:
Rudraksha reduces the outcomes of wrong actions carried out by a person.
It protects you from accidents and unfortunate incidents.
It also cures the bad effects planets and black magic.
Wearing Rudraksha balances a person's blood pressure.
It reduces stress from our daily lives and keeps the brain at peace.
Rudraksha also reduces panic and depression.
It is very useful for enhancing and maintaining the energy of our body. People who travel more often must wear Rudraksha.
It will be more useful while sleeping and provide mental peace to the person.
Rudraksha bears a lot of religious importance. It is believed that by holding or wearing it, Lord Shiva's grace is always maintained on the person. It keeps away all negative energy and gives freedom from fear. You can understand the religious significance of Rudraksha more clearly based on its face or mouth.
Rudraksha not only has religious but scientific significance as well. There are different types of rhythmic pores in the Rudraksha which creates a positive effect on the human heart. By wearing Rudraksha, heart blood pressure stays normal and special vibes coming out from it lay a positive effect on the mind. The person holding/wearing Rudraksha remains free of stress, anxiety and depression.
Rules to Follow When Wearing Rudraksha
By wearing Rudraksha, which is also called the form of Lord Shiva, all the problems and pain gets eliminated from a person's life. There are many types of Rudrakshas which you can wear according to the conflicts and pain.
Many people are not aware of the ruling planet of their zodiac, due to which they do not understand which rudraksha to wear according to their issues. To solve your problem, AstroSage brings forth Rudraksha calculator has been created, through which you can get suitable information about which rudraksha to wear. Every native must know about which auspicious Rudraksha is right according to their zodiac.
It is believed that Rudraksha consists of the powers of Lord Shankar and Mata Parvati, so the person who wears this attains the blessings of both. It can be worn according to planets. 1 to 14 faced Rudraksha represents a certain planet. Some people also wear Rudraksha to pacify planets.
If there are ill-effects of planets in a person's horoscope, Rudraksha is considered to be the best remedy to pacify it. Rudraksha is like a priceless gift available on Earth, whose biggest feature is that it is harmless to the native.
But if Rudraksha is worn without worshipping it, it is only scientifically beneficial. According to the scriptures, there is a wearing process for Rudraksha which must be followed before adorning it.
Wearing Process
Many of us are not even aware of the fact that when it should be worn. Let us tell you that you can adorn a Rudraksha on any Monday in the month of Shravan or anytime during the entire month of Shravan. Apart from this, you can also wear Rudraksha on Shivratri or any Full Moon day.
It should be kept in the mustard oil for 7 days before wearing. On the holy day, soak it in the Panchamrut (milk, curd, honey, tulsi and gangaajal) and bathe it with Gangaajal. After applying tilak on the Rudraksha with the havan ash, chant the mantra "ॐ तत्पुरुषाय विदमहे महादेवाय धीमहि तन्नो रूद्र: प्रचोदयात / oṃ tatpuruṣāya vidamahe mahādevāya dhīmahi tanno rūdra: pracodayāta" and wear the bead around your neck. If havan's ash isn't available, then you can opt for Kumkum.
Apart from this, whenever you go to Shiv Mandir, you must touch the Rudraksha with Shivling. Also, bathe the bead in Gangajal and Panchamrit on two Mondays in a month. Doing this will eliminate negativity and problems from your life. You will also attain the blessings of Lord Shiva and Maa Parvati.
We hope that your search for the right type of Rudraksha will come to an end through our Rudraksha Calculator. Also, the information given by us to you will be helpful.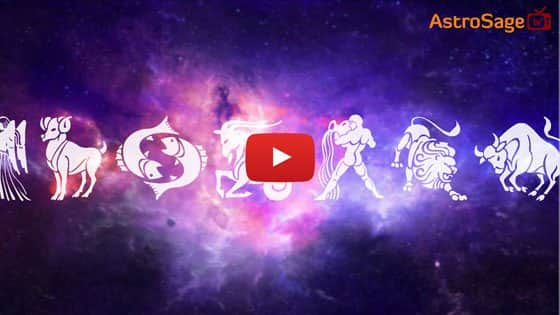 Buy Gemstones

Best quality gemstones with assurance of AstroSage.com
Buy Yantras


Take advantage of Yantra with assurance of AstroSage.com
Buy Feng Shui

Bring Good Luck to your Place with Feng Shui.from AstroSage.com
Buy Rudraksh


Best quality Rudraksh with assurance of AstroSage.com