Sun Transit in Capricorn (14 January, 2022)
Sun transit in Capricorn will take place on Friday, 14 January 2022, at 14:13 PM. The planet Sun transits every month and completes the cycle in the year. In Vedic astrology, the Sun is the father of Saturn and Saturn rules the sign of Capricorn. Hence, it is believed that this transit is very important, and this day is also considered as Makar Sankranti, and it is celebrated with great joy in different regions of India.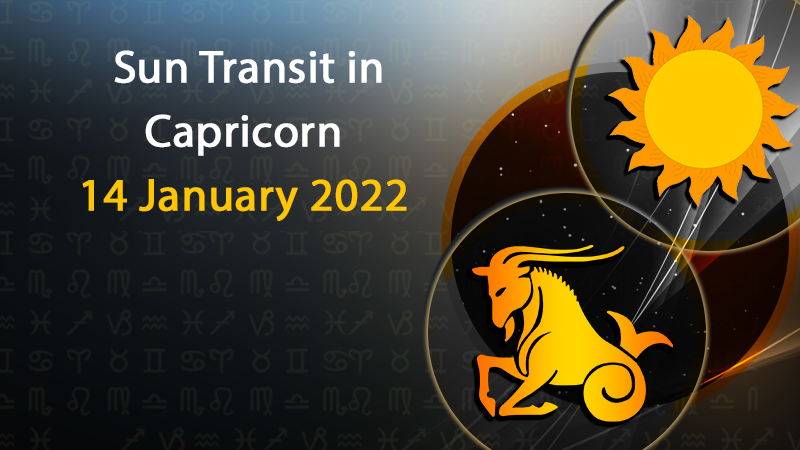 The planet Sun symbolizes authority, power, and glory and is known to be the most dominating amongst all planets in Vedic Astrology. Popularly known as the king of 9 planets, Sun represents leadership, pride, and fame in one's chart. It is also the factor that is considered when reading one's chart to determine the relationship with father and father-like figures in life.
Know The Impact Of Sun Transit On Your Life From Best Astrologers On Call
Capricorn is the sign that is ruled by the planet of discipline that is Saturn, which is inimical to the Sun. The Sun shows the enmity towards this sign, but it is a natural significative of the 10th house hence provide great results. Capricorn is also known as the natural lord of the 10th house of career, name and fame. Hence the sign signifies our actions and work performed in society. With Sun transiting through this sign, it will help enhance the quality of the sign, and you will become a workaholic and would like to indulge in day-to-day tasks. During this time, by adapting maturity and developing patience, you can do very well in your undertaking during this transit.
The Sun in Capricorn has a very intense zeal for achievement that never lets you give up. They also strive for a personal standard of excellence, even if the rest of the world settles for average results. The transition of Sun in Capricorn, also known as Makar Sankranti, is a very important transit as people who are struggling to do good in their careers and earn self-respect Will surely get success. If you are planning to settle abroad or you want your higher authorities to be in your favor, this transit will prove very fruitful for you. As per astrology, Sun rules the inner spirit, self-respect, heart, personality, father, career, and government. As per religion, this transit is important As it signifies the start of Uttarayan. The Sun will move towards the northern hemisphere. This phase is encouraging because it's time that God will wake up from sleep after six months, and festivity would begin.
In Vedic astrology, the transit of the Sun in Capricorn in the enemy sign will not prove to be that inauspicious. As per Kaal Purush Kundli, Capricorn is the natural sign of the 10th house, and Sun is also considered powerful when it's in the 10th house. Apart from this Capricorn sign is ruled by the planet Saturn which is the sign of justice and discipline, and these features are really liked by the planet Sun. Hence the transit of the Sun in Capricorn will give an efficient approach to your life.
The Predictions In This Article Are Based On Moon Signs. Know Yours: Moon Sign Calculator
हिंदी में पढ़ने के लिए यहाँ क्लिक करें: सूर्य का मकर राशि में गोचर - 14 जनवरी, 2022
Learn what the impact of Sun Transit in Capricorn is going to have on your respective zodiac sign:
Aries
The Sun is the lord of the fifth house and will transit in the 10th house of career, name, and fame which will be very favorable for you. The native who is in positions of authority in government jobs and politics and students who are studying political science, law, and mechanical engineering will get full results during the transit. People involved in social service will work on bringing change to society. This will be a very good phase for the professional life of the natives. You will get recognition for your work, and you might also get a promotion or a hike in salary. With the conjunction of Sun and Saturn, you need to be very diplomatic in your approach when dealing with your father or any other higher authorities like your seniors at work or government. This transit will directly help you to focus on what you are meant to do, so this is a very good time to put in the hard work, and you will get appropriate rewards. In terms of finances, there will be a good inflow of money, and hence there would be an increase in finances. During this phase, you are likely to enjoy good health, and you will remain optimistic and feel high on energy and enthusiasm.
Remedy: Donate jaggery on Sunday in the Temple or to any government official.
Taurus
Sun is the lord of the fourth house and will transit in the ninth house of luck, spirituality, and international journeys. This transit may influence you to go for higher studies and for international journeys. There might be an increase in your day-to-day expenses, and a desire to go on vacation will be very strong. You may also have a difference of opinion with your parents. luck will not be favoring you much in your relationship with your partner as he/ she will be a little disturbed during this phase. During this period, you may go on pilgrimage. In this transit, you will be more inclined to the words of the religious teachers. It is also advised to take care of your father's health as it may decline during this phase, and there could be an argument with him. On the career front, you are likely to find favourable results, although you may face some problems due to your ego or your overconfidence at the workplace. Businessmen, on the other hand, are likely to get good results on the business front. Natives who are married will see favorable results in their married life, and you can enjoy religious events with your spouse. On the health front, you would need to pay extra attention to your health as you may face ailments due to exposure to heat.
Remedy: Offer water to a Shwetark tree and read Suryashtakam.
Gemini
Sun is the lord of the third house and will transit in your eighth house of sudden gain/loss, inheritance, and longevity. During this phase, there are chances that your secrets may be revealed, and if you have done anything which the lord doesn't permit, you may get punished for your device. During this time, you are advised to stay careful of your enemies. On the career front, You are likely to face some challenges, and you may have to struggle a bit at the workplace and feel a delay in the achievement of your career goals. Businessmen need to be cautious while signing any contract. During this phase, avoid making any financial decisions That are involved with huge amounts. Students in this phase will be more inclined to research, and they may find it hard to focus on studies during this phase. Healthwise, you are likely to suffer from health issues during this phase, and it would be very wise for you to be careful while driving as you are prone to some accidents during this phase. It is also not advised to overindulge in eating or drinking as it may lead to poor blood circulation.
Remedy: Offer prayers to Lord Vishnu and distribute sweets made with jaggery on Sunday.
Discover Your Life Predictions With Brihat Horoscope Report
Cancer
The Sun is the lord of the second house and will transit in the seventh house of marriage and partnership. During this phase, you will get average progress on the career front, and your opponents are likely to be active by giving you stiff competition at the workplace. You may also face some troubles from your seniors and colleagues. In this period, your marital life may suffer, and the health of your spouse may also decline. In matters related to finance, you will not face any major problem, and you will be able to manage your finances properly as you may initiate new work in order to accumulate wealth. Your relationship may remain monotonous, and there might be a lack of excitement or joy that can bring sadness and dissatisfaction to your relationship. Hence it is advised to be calm and composed while communicating with your partner and maintain a body in a relationship with them. Healthwise, you have to take care of your stomach as you may face some digestive problems during this period.
Remedy: Read Harivansh Puran and pray to Lord Vishnu.
Leo
The Sun is the lord of your ascendant, and it will be transiting in the sixth house of debt, diseases, and enemy. This transit will be favorable as it will destroy your enemies, and you will get free from all your debts. The native who is involved in government jobs or services will get high self-esteem and get recognition, and those who are appearing for competitive examinations such as civil service will get success during this phase. During this phase, finances will flow smoothly, and there will be a continuous flow of income. There will be desired financial gains, and money stuck for a long time are likely to be released during the transit. Relationship-wise, your love life will be happy and enjoyable, and you will act more responsible and will have a greater sense of relationship. Inclination towards a romantic relationship is very high during this phase, and natives are married and likely to have a smooth married life during this period. Healthwise, you are likely to improve and may get relief from the Past health ailments, if any, and during this phase, your immunity will get boosted up, and you will recover quickly from any disease.
Remedy: Tie a kalawa or Molly after rounding for six times.
Virgo
The Sun is the lord of your 12th house and is transiting in the fifth house of education, love and romance, and children. During this phase, your children may get an opportunity to study abroad, and you will get involved in foreign affairs through the government. On the career front, more attention may be needed on a career as you may find some hurdles in distraction in presenting your ideas, and this may cause misunderstanding in the workplace. Businessmen may not yield expected results from the deal they make during this phase. Financially this period will give you average results as you may face ups and downs in the cash flow, and there may be some financial pressure or burden on you. You will be spending money on your children and their needs, and hence strict financial discipline is required during the phase. Relationship wise, there may be some issue in your love life, and you would be disappointed due to your over-demanding in over expecting nature and hence it is advised to maintain a balance in the relationship keeping your ego aside. Healthwise, you may be physically and mentally fit, but your child may suffer physically; hence it is advised to take care of your children's health and give them a proper and healthy diet.
Remedy: Offer your services to cows on Sundays and offer them jaggery.
Libra
The Sun is the lord of the 11th house, and it will be transiting in the fourth house of mother, comfort, and luxury. During this phase, you will get favorable results as you will experience joy and happiness in your family, and you may also have food through the rental property and will accumulate good wealth; and along with this, you may also purchase property with the support of your superiors. It is advised that one should be patient and thoughtful before making any huge investment. On the career front, you may experience mood swings and may face some troubles and hurdles in the routine work. Your love life may also witness some obstacles due to the influence of the Sun; you may find that your tone is rude and harsh during this period which could bring disputes in a relationship. Healthwise, you should take proper care of your health as any prolonged illness can cause you pain, so do not ignore any health-related problems at all. Your mother's health may also decline; hence it is advised to take care of families health by taking a proper diet and joining yoga.
Remedy: Donate red color clothes in Temple.
Get Best Career Counselling With CogniAstro Professional Report
Scorpio
The Sun is the lord of the 10th house and is transiting in the third house of courage, short trips, and siblings. This period will be favorable for the natives as you will excel on many fronts and will see good things happening in terms of siblings, neighbors, and communication. You will be getting a lot of support from your cousins, both personally and professionally. On the career front, you will put in a lot of hard work that will pay off well, and you will get recognition for everything you do. Financially, this period is favorable for you as you may receive financial gain with the help of friends or siblings, and there is a strong possibility for you to experience sudden monetary gains as well. Your love life will continue to be happy and joyous, and you may also go on a short journey and strengthen your bond with your beloved. Healthwise, you will enjoy good health during this period, and you will be free from prolonged disease if any.
Remedy: Wear a good quality Ruby on Sunday.
Sagittarius
The Sun is the ruler of the ninth house and is transiting in the second house of wealth, family, and speech. During this phase, the ability to earn money will be supported or influenced by your father. You may have to look over some family matters because of your father. The phase will be beneficial for politicians and the people who are associated with the government. Financially, it is very wise to save now so that you can reap the benefit in the future. There will be many opportunities to gain, and your income will increase substantially. Your love life may get affected during this period as due to the presence of Sun in the Second house, your speech may get affected, and you would be more demanding and dominating. It would be advised to avoid getting into arguments. Students are likely to stay focused in terms of education and may win prizes in debates for competition. Healthwise, you will remain physically fit during this period, and you will maintain good health for the whole year.
Remedy: Take water in a copper vessel and offer it to Lord Surya.
Advanced Health Report Will Put An End On Your Health Troubles!
Capricorn
The Sun is the lord of your eighth house and will transit in the ascendant of character, self, and personality. During this phase, you may have some ego clashes with your father, and you may also get sudden fame and rise in your career. Natives in walled-in this field of investigation, government jobs will get benefited. You may see improvement in your career. In personal life, there may be some problems with your spouse, and there are chances of your relationship getting sore. Hence, try to keep yourself in check when dealing with them. With the conjunction of Saturn and Sun in this house, you will get good results, but only after you have done your right karma will everything come but only after putting in a lot of hard work. Financially, you may have to face some constant ups and downs, and you are likely to not get your money back if you have lent it to someone. You may also find it very hard to balance your personal and professional life during this phase. It would be wise to keep them separate. Students will experience great confidence and will get good marks in order to score well in competitive examinations. Health-wise, you need to take special care of health during this phase and be attentive towards minor health and take precautionary measures for the same.
Remedy: Serve your father and touch his feet after waking up early in the morning.
Aquarius
The Sun is the lord of the seventh house, and will transit in the 12th house of salvation, expenditure, hospitalization, etc. During this phase, you will get successful in activities related to foreign lands. If your spouse is a working professional, then you may fall into a dispute, and hence it is advised to control your ego; otherwise, it may hinder harmony in your married life. You may face difficulty and challenges professionally as this is the period that you are likely to miss opportunities. This period is not a very good time for business natives either to enhance your need to carefully analyze every business deal that is on the cards and make a well-informed decision. Hidden enemies can create trouble in your way of success and achievement of goals, and hence you are advised to be cautious about the same. Misunderstanding and arguments with loved ones can ruin your relationship, and you may find yourself in a dilemma. Tensions may increase in your married life, which will give you mental stress. Healthwise, it is advised to take good care as you may face a related disorder, fever, or insomnia during this period.
Remedy: Read Aditya Hriday Sthothra every day
Pisces
The Sun is the lord of the sixth house and will transit in the 11th house of desire, income, and gains. This phase will be favorable for the native as the senior officials will all be in your favor and will give you special economic and social benefits. There are possibilities of earning sudden profit. If you hold an authoritative position, you might have to face opposition from enemies, But this is the time when you will grow in your career. People, particularly your seniors, will appreciate you, and this might also result in promotion. You are likely to finish all the existing projects that you have been working on for a long time, and you will get rewards and recognition for the same. For businessmen, this is a very fruitful period as you will find new business proposals. Your financial position is also likely to improve with an increase in the flow of warnings. Relationship-wise, your love life will sail smoothly as the two of you will develop feelings for each other, and you will strengthen The relationship by spending quality time with each other. Healthwise, it will be a very fruitful period for you, and if you have been suffering from any ailment, you will find some relief from it during this phase.
Remedy: Wake up early in the morning and do Surya Namaskar after looking in the Sun.
For Astrological Remedies including Gemstones, Yantra, etc., Visit: AstroSage Online Shopping Store
We hope you have liked our article. Thank you for being an important part of AstroSage. Stay tuned for more interesting articles.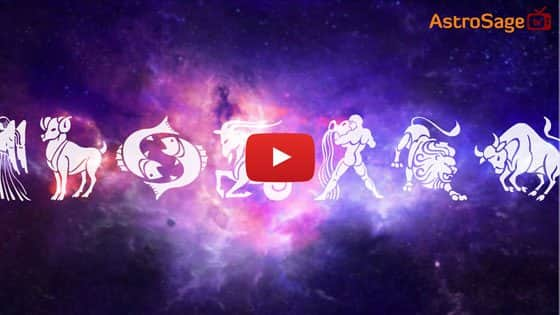 Buy Gemstones


Best quality gemstones with assurance of AstroSage.com
Buy Yantras


Take advantage of Yantra with assurance of AstroSage.com
Buy Feng Shui


Bring Good Luck to your Place with Feng Shui.from AstroSage.com
Buy Rudraksh

Best quality Rudraksh with assurance of AstroSage.com