Mercury Transit in Scorpio - 5 December 2019
According to the science of astrology, the planet Mercury is the significator of intelligence. An individual who receives its blessings can crack the toughest nut, thereby finding answers to each and every question. The exalted state of Mercury in one's Kundali makes him/her a good mathematician, businessman, financial expert. The concerned individual can also charm his/her peers with the aid of excellent communication skills and becomes the owner of a sharp intellect. Of all the nine planets, or navagrahas, the Sun is considered the King and Mercury is given the status of a prince. It is a neutral planet which provides results according to its company. Positive results are procured when it remains in contact with the beneficial planets. On the contrary, it brings forward negative results when gets conjuncted with any malefic planet. If you wish to pass with flying colours in any banking exams, attain proficiency in subjects like statistics and aptitude and also enhance your logical reasoning abilities, then the blessings of Mercury is absolutely necessary to achieve them. Lord Ganesha hailed the planet Mercury as a deity. It is advised to wear an excellent quality Emerald stone and feed green fodder to cows in order to obtain the benediction of this planet. Mercury is also considered the ruling lord of Gemini and Virgo zodiac sign.
Timing of Mercury Transit
The planet Mercury makes its transit on 5 December, 2019, Thursday, in the zodiac sign Scorpio at 10:23 AM, and will remain in this sign till 15:32 night on 25 December, 2019, Wednesday. Let us now move on to read the impact of this transit on all the signs
हिंदी में पढ़ने के लिए यहाँ क्लिक करें
This prediction is based on your Moon Sign. Click Here to find out yours.
Aries
During its transitory motion, Mercury will remain posited in your eighth house. This particular house of the Kundali is also known as the significator of life expectancy and enlightens the natives about the upcoming ups and downs, sudden incidents, longevity, mysteries, and research which are yet to take place in his/her life. As a result, economic state will become prosperous due to the impact of this transit. Monetary resources will come into your hands. If you are planning to undertake any loan, then success may be gained by you at this point of time. Within the workspace, you are likely to encounter certain challenges. It is necessary to observe patience while coming into contact with such stressful situations. You will develop an inclination towards spirituality and research. Mystical things will catch your attention. Natives who are pursuing any PhD degree may obtain favourable results. Amongst the family members, siblings may have to face certain problems. Thus, you may come forward to help them. In the duration of this transit, you are advised to remain cautious about your health as there are probabilities of it remaining down. You may also undertake sudden journeys. Drive your vehicle carefully. The spouses of married natives may earn good profits while the planet Mercury remains in its transitory motion.
Remedy: Gain the blessings of Mercury by donating green vegetables on Wednesdays.
Taurus
The seventh house of Taurus natives will host the transit of Mercury. In the realm of astrology, this house is hailed as the significator of aspects like conjugal life, life partner and other partnership ventures. Married natives will witness the inflow of happiness during this period of time. Life partners of Taurus natives are also likely to prosper in their respective fields. Love life will also remain blissful. You will carry out romantic conversations with your partner, which will provide enhancement and strength to your relationship. Those in love have good prospects of tying the knot, but certain hurdles can crop up in the way of marriage. As far as the professional life is concerned, then this transit will prove to be beneficial for this aspect too. You may get access to new opportunities in your job. There is also quite a possibility of you opting for a job change. If you adhere to partnership in business or any other work, then you will gain favourable results. On the familial front too, good outcomes will be obtained. Mutual love and compassion will be seen amongst the family members. The children of natives who belong to the Taurus zodiac sign will also be healthy and happy. On the economic front, expenses are likely to increase. It would be better for you to take care of the unnecessary expenditures.
Remedy: Light a lamp or diya using camphor and worship Lord Vishnu.
Gemini
Mercury will occupy your sixth house during this transit, which is also considered the house of one's enemies in the field of astrology. Information can be procured about enemies, ailments, pain, job, competition, immune system and separation in one's marriage can be attained through this house. Gemini natives will not witness a favourable time in this transit period. You may have to face many challenges in various aspects of life. Special care should be taken of your health and do not neglect it, as this transit may have negative impacts on your well-being. On the other hand, you will receive tough competition from your rivals at workplace. They will try their level best to overpower and prevail over you. But, you should not give in and surrender yourself. You may also get involved in any legal dispute, which is why it is advised to stay away from any kind of illegal activity. Hurdles and challenges will be a part of your professional life. Opportunities to meet your maternal family members may crop up. Adding to it, this transit will cause your expenditures to increase.
Remedy: Donating Jaggery (gud) on Wednesday will prove to be beneficial.
Cancer
The fifth house of Cancer zodiac sign will host the transit of Mercury. This particular house is also known as the house of progeny and provides information about romance, children, creative abilities, education and new opportunities waiting for you in life. During this period of time, it is absolutely necessary for you to take care of your child's health. IIn case you are a student who wishes to pursue higher studies, then your wish may get fulfilled at this time. For the same purpose, you may go to a foreign country. In the duration of this transit, you may also try to refine your abilities and talents. About your love life, your relationship with your partner will grow. However, arguments may occur between both of you due to a petty reason. Single natives who are in search of love may find success in their endeavours. With this, a new relationship with that special someone may also get formed. Misunderstandings may take house in the relationship of married natives, due to which tiffs may occur. However, this transit will prove to be beneficial for the spouses of Cancer natives. During this period, you may also take a new oath. Communication skills will improve. Intellect and rationality will be apparent in the decisions taken by you.
Remedy: Maternal (Mausi) and paternal aunt (Bua) can be gifted green colored clothes.
Leo
The planet Mercury is transiting through the fourth house of Leo zodiac sign. Happiness is the virtue, which is endorsed by this specific house. The same house also enlightens the natives about aspects like luxuries and comforts, movable and immovable property, popularity and emotions. Due to this transit, you will witness the inflow of happiness and prosperity in your life. Opportunities will be created for you to spend some quality time with your family members. The support and company of your family members will keep you contented. While this transit is taking place, additions will also be made to your movable and immovable property. As a result, you may buy a new house or a vehicle. This transit will also be beneficial for your mother. Her health will remain stable and you will also obtain her blessings. Leo natives will work with devotion at workplace while displaying dedication and hardwork. You will gain recognition because of it and seniors will also praise your work. Student natives will work diligently to achieve their desired goals. On the societal front too, you will attain prosperity and come into contact with influential and established personalities of the society.
Remedy: Seek the blessings from eunuchs.
Virgo
Mercury will remain posited in your third house during its transitory motion. The third house is also used to navigate aspects like courage, will power, younger siblings, curiosity, excitement, passion and zeal present in one's Kundali. While this transit is taking place, your courage and self-confidence will increase. Seriousness will also be apparent in your behavior with regards to your passion and oaths. You will move forward courageously and put your viewpoint in front of others in a straightforward way. Communication skills will improve but you are advised to keep a tab on your hot-headed nature, otherwise, there are chances of fights and arguments taking place with someone. During this while, you may also change your job. If your friends and family members require your help, then you will come forward to help them. However, differences may also occur between you and them. In this period, you are likely to meet new and interesting people. As far as married natives are concerned, their stature in the society will increase due to the success of their respective life partners. Small journeys may also be undertaken by you. Younger siblings are likely to achieve success, which will bring a smile to your face. If required, you will not hesitate to help them.
Remedy: Dus Mukhi Rudraksha or Ten Faced Rudraksha can be worn around your neck.
Libra
The second house of Libra natives will host the transit of Mercury. In the field of astrology, the second house is known as the significator of family, speech, primary education and monetary resources. This transit of the planet Mercury will be economically favourable for you. There are high possibilities of attaining good monetary returns during this period. This profit can be procured from either domestic or foreign source. Due to the strengthened economic condition, you will be able to repay a previously undertaken loan. If you have applied for a bank loan or any other organisation, then your application may be taken into consideration. In order to keep a tab on your expenditures, it is necessary to handle financial matters with care. This transit will also be fruitful for your personal life. Communication skills will improve, which will help you to leave a remark on your peers. It is also quite possible for you to lay your hands on some substantial amount of profits solely because of your pleasant personality. Married natives may witness a decline in the health of their spouses. Thus, it is necessary to monitor their health. At workplace, you will achieve success because of your hard work and dedication. But, it is necessary for you to maintain distance from controversies. Happiness and prosperity will prevail over your family. Harmony and affection will also be seen amongst family members.
Remedy: Feed green fodder to cows and venerate Lord Buddha.
Scorpio
Since the transit of Mercury is primarily taking place in this zodiac sign, it will remain placed in the first house or ascendant house of Scorpio natives during its transitory motion. According to astrology, this house is known as the house of self. The transit of Mercury can bring unfavourable changes to your demeanor. You may have to deal with mental stress all this while. It is better to keep yourself busy in order to escape such situations. Health is also likely to remain under the weather. In this transit period, you may suffer from skin and blood related disorders. Thus, it is extremely necessary for you to take good care of your health. You will be primarily interested in increasing your income source which will bear fruits of success and you will witness the inflow of monetary resources. You may also be present in any societal function. Debates can take place between you and siblings or friends, which is why it is advised to keep your temper under control. An unfulfilled desire of yours may get fulfilled. Scorpio natives will face their opponents courageously and successfully outshine them. At workplace, you will perform your tasks diligently and win the appreciation of colleagues and senior officials.
Remedy: Visit a Shri Vishnu Temple on Tuesday and donate Camphor.
Sagittarius
The planet Mercury will get placed in the twelfth house of Sagittarius zodiac sign. Astrology considers this to be the house of expenditures, and helps one in navigating about aspects like expenses, losses, salvation and foreign trips. The transit of Mercury will specifically impact your financial status. As a result of this transit, your expenses will increase steadily. Economic resources may get procured on any necessary or unnecessary task. In such a situation, you should cut down on your expenses and spend minimally on the necessities only. With matters related to money, do not commit the mistake of trusting anyone very easily, as it may have dangerous repercussions. If you grant a loan to someone or take loan from anyone, then maintain a written record of each and every transaction. You may also take a trip to a foreign country to fulfill the requirements of your business. On an additional note, this trip will prove to be beneficial. However, you are advised to remain careful during this period, as there are chances of you getting involved in a controversy. The graph of your career will go upwards, but your rivals will also remain active. Thus, it is better for you to maintain distance from them for a while. Do not neglect your health as a bigger health problem may crop up.
Remedy: Natives can donate Green Cardamom to attain the blessings of Mercury on Wednesday.
Capricorn
The planet Mars will remain posited in the eleventh house of your zodiac sign. The eleventh house of one's kundali is known as the significator of income, life achievements, friends, elder brothers and sisters and many more. This transit will be beneficial for many fields of life. Your efforts will be rewarded with success. You desire to achieve your goals will increase, and you will take steps to accomplish the same. However, you will move forward in a positive manner. Some challenges will catch you around the corner, but you will face them with a focused and courageous mind. This transit is also likely to bring forward economic prosperity. You may also gain profits from property which have been put on rent. Luck will remain by your side. On the personal front, your friend circle will increase and siblings will also be granted success in their endeavours. You may also receive profits with the assistance provided by them. If you are in a relationship, then it will grow beautifully. Love partner will acknowledge your feelings in a full fledged manner. At workplace, you will outshine your rivals.
Remedy: Vidhara Mool root can be worn either on your arm or neck.
Aquarius
Mercury will make its transit in your tenth house of Karma. The tenth house in astrology signifies career or profession, father's state, prestige, politics and aim in life. It is also known as the house of Karma or profession. As a result, there will be ups and downs in your professional life, but you will get out of such complex situations with the help of your sharp intellect and reasoning abilities. Natives who are looking for a new job should push their edges to find a suitable job. You will remain unsatisfied with the results at your workplace. However, this is not the right time to sit back and cry over your defeats but to work extra hard so as to make a comeback with a boom. The presence of love and affection in your personal life will strengthen your bonds. Along with this, you will receive happiness from your life partner. Natives who are associated with politics will not receive much fruitful results, but your hard work and devotion can possibly garner you success.
Remedy: Shri Vishnu Sahasranama Stotram must be recited regularly.
Pisces
Mercury will move in your ninth house of luck. It determines the following aspects: Fate, guru, religion, travel, pilgrimage site and decisions. While this transit is taking place, your luck may shine. If you are a student, then you will obtain the blessings of your mentors and also pass with flying colours in your exams. In between all of this, you may also take a family trip. Married natives will attain name and fame in the society due to the achievements of their respective spouses. During this time period, you may also get financially benefited. You will gain mental satisfaction by getting indulged in religious activities and social services. While performing any task, you may give priority to your decisions and principles. You may also gain profits with the help of your business partner. Pisces natives may also get awarded with rewards during this time. You may take an interest in writing and plan to pursue higher studies. A long distance trip may be undertaken to fulfill business or academic requirements. Take proper care of your mother's health as it is likely to remain in low spirits.
Remedy: Cows must be fed green fodder and Gud or jaggery.
For Astrological Remedies including Gemstones, Yantra, etc., Visit: AstroSage Online Shopping Store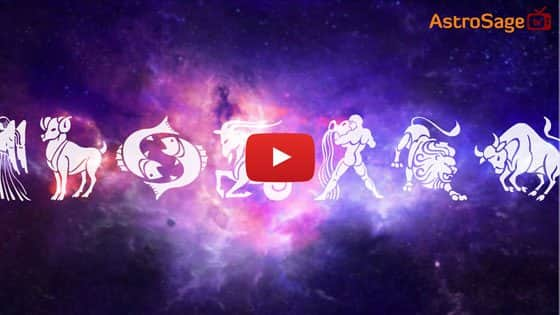 Buy Gemstones


Best quality gemstones with assurance of AstroSage.com
Buy Yantras


Take advantage of Yantra with assurance of AstroSage.com
Buy Feng Shui


Bring Good Luck to your Place with Feng Shui.from AstroSage.com
Buy Rudraksh

Best quality Rudraksh with assurance of AstroSage.com