Mercury Transit in Sagittarius - 25 December 2019
The planet Mercury has its own special place amongst the Navagraha (nine planets). It is the lord of the zodiac signs Gemini and Virgo, as well as the nakshatras Ashlesha, Jyeshta, and Revati. The position of this princely planet in a native's birth chart (Kundali) is considered very significant. Though the people born under the influence of Mercury aren't physically much stronger, however, they are quite sharp mentally and quick-witted. They have the strength to face their biggest opponents and fight them.
The significator of science, trade, research, logic, mathematics, and skin in body parts; the strong position of Mercury can make a native one of the wisest people alive, whereas its exact opposite can even result in the person suffering from mental diseases. The favorable position of Mercury is very important in reaching great heights of success in life. The prince amongst the planets, it offers results according to the company it is placed in. this means that if Mercury gets posited with a favorable planet then it offers auspicious results, and in case the planet it is placed with is malefic, then that causes unfavorable results for the native.
Effects Of Placement Of Mercury In Kundli
The favorable placement of Mercury in a native's birth chart can make the person smart and he/she will have the ability to express themselves properly in front of others. Moreover, such a person is also quite wise and knowledgeable as well as talented. They have a good hold on mathematical subjects, and such favorable positions of the planet can even get good results and gains in business for such natives. Whereas, on the flip side, if this planet is not in an auspicious position in your birth chart, then it can hinder your thinking abilities. Such natives turn out to be lazy and they may suffer from skin-related problems as well. In such a scenario, one should observe the remedies associated with Lord Mercury and look for ways to pacify the same. Wearing the Emerald Gemstone for this purpose is considered rather auspicious.
Transit Period
Now this significator of intellect and speech, Mercury will be making its transit on Wednesday Night, 25 December 2019 at 15:32 hours in the zodiac sign Sagittarius. It will remain posited here until Monday morning, 13 January 2020 at 11:22 hours. The will be evident on all the 12 zodiac signs. Let us take a look at the effects of this planetary motion of Mercury on you, as per your horoscope.
हिंदी में पढ़ने के लिए यहाँ क्लिक करें
This prediction is curated from your Moon Sign. Click Here to find out yours.
Aries
The transit of Mercury will be taking place in the ninth house of your zodiac sign, Aries. This house of religion is used to learn about one's fate and fortune. This transitory motion in your House of Luck, Father, and Religion can be rather challenging for you. Many of your tasks can get stuck during this time due to which you can also struggle with mental stress and tensions. However, the members of your family will come forward to help and support you in your times of need, and will pull you out of all adverse conditions. This time is such that you will need to work doubly hard in order to reap the benefits of your labour. Do not waste your time on counting the chickens before they hatch. Instead of dreaming about your future, take steps and work hard to make those dreams come true. Fate may not be in your hands, but your karma is. Keep working and you will soon attain what you truly deserve. Some Aries natives can take a loan from the bank, to alleviate their economic situation. Coming to the social front, your closest friends will be seen standing right by your side in this duration. This time period will prove to be rather favorable for student natives and they will receive good results in their field of education. In order to keep your concentration power intact, you should take the help of meditation.
Remedy: Feed spinach or some green fodder to a cow.
Taurus
Mercury is making its transit through the eighth house, i.e., the Ayu Bhav or longevity of your Kundli. This transitory motion can bring the happy blessing of a new member in the family of married natives. This will improve the environment of the family as bliss prevails over you all, and the relations between the members remain harmonious. This happy atmosphere in your familial life will keep you elated. In this duration, you can also end up helping the younger members of your family, financially. Taurus natives in love, or married, can go on a shopping spree with their partner, and buy some new clothes. Your mind will be in your control in this duration which will help you attain good results on the social level as well. You will also take part in charity and donations during this time, as well as give some good advice to others. The good deeds done by you will provide you inner power. On the other hand, some wrong decisions pertaining to business can lead to the business personnel of this sign incurring losses in their trade. However, you will not be disappointed due to this, and instead you will learn from your mistakes and create better and correct schemes in the future. This transitory period is also asking you to take better care of yourself, maintain a proper diet, and exercise regularly to remain healthy and fit.
Remedy: Worship Goddess Durga and offer green bangles to her.
Gemini
Due to this transitory motion, Mercury will enter the seventh house of the zodiac sign Gemini. This house of marriage and partnership helps one learn about the spouse of the native and other partnerships in life. You should avoid getting into disputes and arguments with your partners/collaborators in business, because if you try to force your viewpoint or opinions on someone, then that can lead to problems for you further on. If you are right, then you need to express yourself properly and put your points across, to your partners or collaborators, in the right way. In this duration, a lack of confidence may be seen in you, because you are living your life while thinking about the future. If you wish to regain your self-confidence, then you should learn to live in the present. You will remain completely devoted towards your spouse, yet some small tiffs can occur amongst you two. This time will prove to be good for working professionals of this sign and they will also receive the deserved results of their hard work. There are also strong possibilities of some Gemini natives getting promoted. Most importantly, you should not do anything in a haste during this transit period because that can result in you having to suffer losses.
Remedy: Worship Lord Krishna with utmost devotion, and offer butter and mishri to him.
Cancer
This transit of Mercury will be taking place in your sixth house, and will prove to be rather auspicious for you. Your efforts and way of working will be highly praised and the working professionals will also be successful in attaining a new image in their workplace due to their creativity. The things that others only imagine, you will make them tangible. You will bravely face all challenges in this time period and your self-confidence will not falter in the face of adverse conditions. Some Cancer natives can also contemplate a job change in the duration of this transit. Moving on to your social front, the sweetness in your speech will attract others towards you, and you can also come into contact with some reputed and well-known personalities of the society. Any legal cases that you have been fighting may get verdicted in your favor during this time period. As for your economic aspect, there may be an increase in your expenses but they will not affect you much. Natives born under the influence of the crab, who are in love should get a gift for their beloved, during this transit. Married natives can also plan to go for a vacation with their spouses.
Remedy: Feed wheat dough balls to a cow.
Leo
The planet Mercury is transiting through the fifth house or the house of progeny, in your zodiac sign, Leo. This house helps to determine about the knowledge and children of the native. This transit period brings a certain brilliance to your intellect and you will show an inclination towards learning new subjects. If you are associated with any field of art, then your creativity will attract others towards you. You will enjoy discussing and debating on spiritual topics with others in the duration of this transit. Coming to your married life, you may get into an argument with your spouse, but once your anger cools down, you will quickly win over your partner yet again. This is a favorable duration for student natives and you will be able to concentrate better in your studies. You will also have the complete support of your mentors and teachers. Students, who are studying topics related to mathematics will attain special gains due to this transit. However, you need to be slightly careful of your health. Allergies due to dust and polluted air are probable for Leo natives.
Remedy: Worship Lord Vishnu. Chant the mantra "ॐ नमो भगवते वासुदेवाय/oṃ namo bhagavate vāsudevāya" with utmost devotion.
Virgo
The transitory motion of Mercury will activate the fourth house of Virgo natives. This is the house of mother and happiness and Mercury's transit will prove to be auspicious in many ways for you. You will obtain the benefits of your hard work done in the past, in the form of favorable results. There are good possibilities of receiving good news in various sectors of life due to this transit. You will become busier in your family life due to the arrival of guests at home. On the other hand, some Virgo natives may even make plans of buying a new home. Disputes between you and your spouse is possible and they may even become upset with you. However, as long as you remain calm, you will be successful in resolving the problems of your life. Working professionals should not leave their tasks until tomorrow, especially during this transit period. Utilizing and managing your time well, helps one to move ahead in life, therefore, you should complete your tasks today itself. Healthwise, this time will bring some good changes for you. Those natives who have been suffering from some illness since long, may finally get rid of it.
Remedy: Chant the mantra "ॐ ब्रां ब्रीं ब्रौं सः बुधाय नमः/oṃ brāṃ brīṃ brauṃ saḥ budhāya namaḥ."
Libra
The transit of Mercury will be taking place in your third house , also called the House of Courage and Valor. Libra natives may have to face certain challenges in life, during this transitory motion, and any wrong decision you undertake in this duration can become the reason of your familial relations falling apart. In order to keep your household together, you need to accept your mistakes in front of everyone. Some of your opponents can even scheme against you, but you will be able to overcome all situations smartly. If you wish to gain good results at work during this time, then you will need to give up the bad habit of being lazy. More importantly, you need to remember that even God only helps those who help themselves. If you do not help yourself then no one else will be able to provide assistance to you. You can share your woes and problems in life, with a friend or relative, while a short-distance trip may also refresh your mind and soul. Healthwise, there may not be any physical problems for you, but mentally you will remain stressed. Your body should remain active, in order to remain fit and fine.
Remedy: Do charity for eunuchs and get their blessings.
Scorpio
The second house of Scorpio natives will host this Mercury transit, which will eliminate many of your problems while offering you desired results. On an economic level, you will be successful in accumulating wealth, and there are also great possibilities of profits for you, through ancestral properties. Your communication skills and way of speaking will be influential as well in this duration. If you think that your words are not being heeded, then you need to learn to stay quiet in such a situation. Your working style will give a new identity at your workplace and in the eyes of the society. However, you need to take proper care of your health too, during this time. Skin related diseases can trouble you, therefore, you need to especially take cleanliness into account. Ensure that your surroundings are clean and do not invite infections and other such issues. The student natives born under the influence of the scorpion have great chances of getting good results in their studies. Those student natives who are preparing for competitive exams should study according to a time table. Moreover, you can take the aid of yoga and meditation for better concentration and should take a balanced diet as well.
Remedy: Donate green gram (sabut moong).
Sagittarius
The Mercury transit is taking placed in your own sign which means that Lord Buddha will take up residence in your first i.e., ascendant house. This house, as per the kalpurush kundli, pertains to the zodiac sign of Aries and is examined to determine about the native's health, body, and inner knowledge or enlightenment. Sagittarius natives associated with business need to remain on the guard because your opponents can reveal a secret of yours which may result in financial loss as well. The natives of this sign can face economical problems in their familial life as well, and some of you may even borrow some money from your friends or relatives. Coming to your marital life, things will remain normal and though arguments may occur between you and your spouse over certain topics, but with your soft and sweet behaviour, you will be able to bring back the harmony in your relationship. Any rudeness or roughness in your speech can create problems in your workplace at this time. This is why, you are advised to remain polite with your colleagues. Some ladies of this sign can cook the favorite dishes of their respective husbands to appease them.
Remedy: Light a diya (lamp) of camphor on Wednesday.
Capricorn
Due to this Mercury transit, the twelfth house of Capricorn natives will remain activated. As a result of the same, you need to remain careful because it can negatively affect your health. You can take assistance of yoga to remain fit, as well as include fruits and green vegetables in your diet. Certain problems can become a part of your marital life and their cause will be your stubborn nature. Due to this, you can even pressurize your spouse to agree to your demands. Your economic aspect will remain normal but certain unwanted expenses can trouble you every now and then. On the other hand, those natives who have been dreaming of going abroad can finally witness the fulfillment of their dreams. Some Capricorn natives may also have to go on a work related long distance trip. Spending time with your kith and kin will be good for you, during this transit period. Time spent with your relatives will help you gain some mental peace, and you will also be able to get out of any tangles and snafus. Student natives may get a chance to go on a school trip during this time, while some Capricorn natives may read books and novels by great authors to increase their knowledge.
Remedy: Recite the Vishnu Sahasranama Stotram.
Aquarius
There are chances of good results for Aquarius natives because the transit of Mercury will take place in your eleventh house, or your House of Income and Gains. First and foremost, beginning with your economic aspect, this transitory motion will resolve many of your financial problems, and you will be successful in repaying your old debts. Happiness will prevail in your family life as well and you will spend some blissful moments with your spouse and children. Moving on to your social life, your activeness will increase socially and this time can also expand your friend circle. You may even plan to go on a vacation with your friends. Your sharp and brilliant mind will help you gain profits in numerous aspects of life. If you have a feeling that you are not obtaining the desired results of your tasks then you need to review them again. Aquarius natives in love may get a present for their beloved to make them happy. Some of them can even propose to their lover, for their hand in marriage, during this time period.
Remedy: Chant the 'ॐ बुं बुधाय नमः' ('oṃ buṃ budhāya namaḥ') mantra.
Pisces
The transit of Mercury in your tenth house or your House of Career or Profession will bring an increment in the self-confidence of Pisces natives. You will be successful in defeating your opponents with the help of your logical abilities. During this time period, your enemies will be afraid of even facing you. You will be able to complete your pending tasks and while your family life will remain normal, but you will receive good results in your marital life. You will grow closer to your spouse and spend some romantic moments with them. You may also spend some of your monetary resources on clothes. Moreover, you will finally reap the profits of the hard work you did, to improve your career and give it a boost. The situation of student natives will also improve and you will be able to explain even the hardest subjects to your classmates. However, you need to take proper care of your health too, alongside your studies. Socially, you can become the centre of attraction on showcasing your talents in front of others. On the other hand, some Pisces natives can also choose to transform their talents into their career.
Remedy: Donate green vegetables.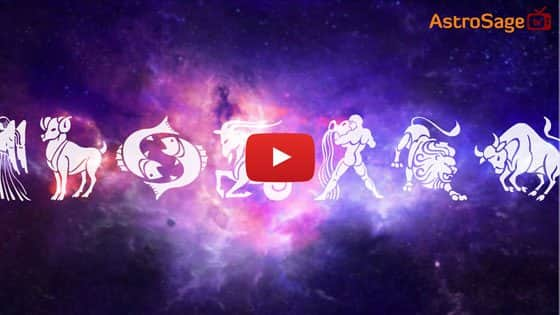 Buy Gemstones


Best quality gemstones with assurance of AstroSage.com
Buy Yantras


Take advantage of Yantra with assurance of AstroSage.com
Buy Feng Shui


Bring Good Luck to your Place with Feng Shui.from AstroSage.com
Buy Rudraksh

Best quality Rudraksh with assurance of AstroSage.com