Mercury Transit In Capricorn - January 13, 2020
Mercury transit holds high importance in the field of Vedic Astrology. It is a fast moving planet and completes its celestial orbit after the Moon. Amongst the Navagrahas, Mercury always remains strong since it offers results during both day and night. This is the reason why the transit of Mercury is also considered the most important. This planet is capable of introducing major changes, positive or negative, in its short transitory duration.
Mercury is neutral in nature, making it capable of delivering both auspicious and inauspicious according to the conditions. An auspicious Mercury makes you humorous and intelligent. As a result you are counted amongst scholars of society and praised by people. Mercury's auspicious position in a kundli makes a person mathematically as well as logically capable. Not only this, its favourable influence makes you a skilled and successful businessman and offers day-and-night progress. However, its inflicted position proposes skin diseases, poor intelligence and failure in business.
According to Vedic Astrology, the planet Mercury offers results throughout its Dasha and Antardasha (sub-period), which is why its effects are visible at the earliest. The propitious placement of Mercury in one's kundli makes the native highly inclined towards acquiring quality education and sharp. They are more practical, less emotional, probably talkative and enjoy putting out their thoughts on the table. In the field of astrology, Mercury is considered to be the governing lord of Gemini and Virgo, while Virgo is also its Mooltrikona sign. Mercury remains in its exalted state in Virgo and debilitated in Pisces.
According to the Hindu Panchang or Calendar, the planet Mercury is considered as the ruling lord of the North direction and Autumn season. It also represents Green color, Brass metal and Emerald gemstone. The favourable placement of Mercury in a kundli offers a native with good intelligence and communication skills, analytical ability, soft skin, mathematics, statistics and business related intelligence. Mercury is also a benefactor for all types of travelling and journeys.
Saturn and Venus are friendly to Mercury, whereas Moon is inimical. It is recommended to wear Emerald gemstone to increase the beneficial effects of Mercury. Apart from this, establishing Budh Yantra also helps to appease Lord Mercury. You must serve the cow and respect women to attain the blessings of the planet Mercury.
Effects Of Mercury
Mercury is entitled as the "Prince" among the nine planets, also called Navagrahas. Ashlesha, Jyestha and Revati Nakshatra fall under the lordship of Mercury. With the favourable placement of Mercury in the kundli, the native acquires great progress in many areas of life. With its positive influence, the natives win the hearts of people with their eloquence. Those who suffer from its unfavourable impact are advised to perform Mercury remedies.
Time of Transit
Mercury planet, also known as the significator of speech and communication skills, will change its placement from zodiac sign Sagittarius on January 13, Monday at 11:22 AM and enter Saturn-ruled Capricorn. So let us know the positive and negative effects of transit of Mercury in Capricorn on all zodiac signs:
Find your Moon sign: Moon Sign Calculator
हिंदी में पढ़ने के लिए यहाँ क्लिक करें
Aries
For your zodiac sign, Mercury is the ruling lord of your third and sixth house and will be placed in your tenth house during its transit in Capricorn. The tenth house of our kundli signifies our livelihood, Karma and fame. With the influence of Mercury in the tenth house, you will perform exceptionally well at your workplace on the basis of your intelligence and wisdom and gain appreciation. Your opponents will also praise you during this period, which was highly unexpected. If you do business, then this time will offer new momentum and new opportunities will come in your way, which will help you expand your business.
This transit of Mercury will also mark a positive impact on your family life and peace and happiness will prevail in the house. During this transit, you will attain the support of your siblings, which will majorly help you carry out your work in a better way using your communication skills. You just have to avoid being over-confident.
Remedy: You should worship Mata Maha Lakshmi on Wednesday to get special benefits.
Taurus
Mercury is the governing lord of the second and fifth house for Taurus natives. During its transition in Capricorn, Mercury will enter the ninth house from your zodiac sign, which will lead to a rise in your respect, fame and wealth. As a result, this transit will give rise to financial progress and you will also acquire the support of your family, especially from your father, due to which you will be able to move ahead in life. In terms of love, this transit will prove to be very favorable. Communication between you and your partner will improve, and your beloved will also remain happy and content with you during this time.
Both of you will look out for opportunities to hang out together and direct your love life in a better way. Your social circle will increase, which will greatly benefit you. During this time, you will also get the chance to go on some trips, which will be effective in improving your situation. You will also get the support of your family in improving your social status during this period and acquire success when it comes to higher education.
Remedy: For favourable results, you should wear an Opal gemstone of best quality crafted in a silver ring on the ring finger on Wednesday.
Gemini
In addition to being the lord of your zodiac sign, Mercury rules over the fourth house of your horoscope and will enter your eighth house during its transit in Capricorn. The eighth house signifies sudden life events and age. Transit in the eighth house of the zodiac sign lord may give rise to physical challenges, which you should be careful about. In addition, this transit of Mercury will help you financially. Those who are associated with Dharma Karma and other religious activities will get good results. Those who receive Mantra Deeksha will incur a good experience during this period.
You will be able to perform excellently in the field of research and your mind will be inclined towards esoteric and spiritual activities. Some natives will get an opportunity to acquire sudden monetary gains during this period, which will improve their financial condition. However, during this time, you should speak thoughtfully, since any hint of rudeness or aggression can spoil your tasks. There will be some ups and downs at your workplace during this period, so pay full attention so that no one gets a chance to complain.
Remedy: To obtain the grace of Lord Mercury, regularly recite the Shri Durga Saptashati.
Cancer
Planet Mercury is the lord of the third and twelfth house for your zodiac sign and will be posited in the seventh house of your kundli during the transit. The seventh house expresses our long-term partnerships and business. Due to the transit of Mercury in this house, you are bound to gain lots of benefits from telecommunication resources. If you do business, then you will be able to successfully expand your business through marketing and social media, which will make you professionally stronger in the meantime. Along with this, you are likely to attain good results if you get associated with a multinational company or any foreign sources.
This transit of Mercury will also affect your married life. Mutual understanding will increase in your relationship. However, intervention from some outsiders can cause problems in the relationship. During this time, you will get the support of your siblings, and some of your special friends will stand beside you as well. This will make you feel good and secure. You will become strong mentally and be able to make decisions successfully. This time would be good for expanding business.
Remedy: Donating Shringar items or cosmetic products to a female priest on Wednesday will prove to be beneficial for you.
Leo
For Leo natives, Mercury is the lord of your eleventh house along with your second house. With this planet transiting in Capricorn, it will enter your sixth house of legal activities, debates and arguments. As a result, success in any kind of debate or court case is likely to be achieved during this period. During this time, an increase in your expenses will be witnessed, and there may be a slight decline in your income, which is why you should try and keep your finances under control. This will help you boost your self-confidence, but you should still try and stay away from all these activities and avoid interfering in anyone's argument. If you are employed, then this transit of Mercury will prove to be favorable for you. Mentally, you will remain a bit restless during this time, but still you will be able to deliver your tasks despite a little delay.
Remedy: You must feed wheat dough balls to the cow or Gau Mata with your own hands.
Virgo
Along with being the lord of your zodiac sign, Mercury also rules over your tenth house and will majorly affect your fifth house during its transit in Capricorn. The fifth house represents love, education, intelligence and children in one's kundli, and the placement of Mercury in this house will only lead to intellectual growth. Your memory will become stronger, and if you are a student, you will get favorable results in the field of education. Apart from this, people engaged in a love relationship will get favourable results during this period. Their relationship with their beloved will be strengthened. The interaction between you will increase, so that you understand each other better.
Children of married natives will become the ultimate source of happiness for their parents and make substantial progress in life. Employed natives are likely to change their jobs during this period. However, traders and merchants will gain tremendous benefits and chances of further expansion in business will also arise. Your intelligence power will increase, which will help you make better decisions based on your wisdom. During this time, you will be counted among the influential people of the society. It will be necessary for you to maintain good relations with senior officers.
Remedy: To get special benefits, you should recite Durga Chalisa and offer red flowers to Maa Durga.
Libra
The influence of Mercury remains favorable for the natives of Libra zodiac sign, as it governs your ninth and twelfth house respectively. The governor of luck Mercury will enter your fourth house during its transition in Capricorn, due to which comforts and prosperity will increase in your family, and your relationship with your family will improve. There will be good harmony between the family members and a sense of positivity will prevail. This will mark a major impact on you in your workplace, leading to good results.
Your intelligence will help you in with your work, and any initiative or step taken during this time will incur appreciation and praise. You will easily resolve challenging situations with your witty attitude. During this time, you can also receive property related benefits. Those who have gone abroad or are living away from home may get an opportunity to come back home, which will trigger a wave of joy in the family. You are likely to get some gifts from your paternal grandparents, which will add to your happiness.
Remedy: To increase the positive influence of Mercury on your life, install Budh Yantra on Wednesday.
Scorpio
For Scorpio natives, Mercury is the lord of your eighth and eleventh house and will enter the third house of your kundli during the transitory period, exhibiting special effects. The third house signifies communication, which is majorly represented by Mercury itself. Hence, this transit will incur beneficial results in terms of speech and communication and no one could stop you from moving forward on the path of success. Adding to it, if you work in the field of communication, then this transit will prove to be an icing on the cake for you. Not only this, you will get many opportunities to travel during this time, which will add to your enjoyment as well as help to acquire success.
Some problems may arise with your siblings during this period of transit, so take good care of them. This is the time to work harder and speed up your efforts, as only then you will be able to get desired results. Natives in the field of marketing will get fruitful results of their hard work during this time. Also, if you are involved in the field of transportation, then this transit will prove to be a profitable deal for you. If employed, then you must treat your colleagues better as they can prove to be useful for you in the long run.
Remedy: To attain the blessings of Lord Mercury, offer Laung (Clove) Paan to the Goddess.
Sagittarius
For Sagittarius natives, Mercury is the lord of the seventh house as well as the tenth house and will enter your second house during their transit in Capricorn. The second house represents our voice and eating habits. Apart from this, it is also known as Dhan Bhava or the house of money. This transit of Mercury will help you to get favorable results. During this period of transit, your way of speaking will become sweeter and attractive, due to which you will be able to speed up your tasks and improve your financial condition rapidly. Efforts made in regards to business will be fruitful, leading to financial profits.
During this time, you will enjoy good food, but you must refrain from eating in a hurry. Conditions will favour you in your workplace, and you will gain success in accumulating money during this period. Your position as well as respect in the family will increase. On the other hand, your health may suffer during this period of transit. For this, you are expected to remain careful and avoid working in any haste.
Remedy: Donate sugar on Wednesday to escape the malefic effects of Mercury.
Capricorn
Mercury proves to be very favorable for Capricorn, as it is the lord of your sixth house as well as the ninth house, i.e. the house of fortune. This year, Mercury will be seen positing in your own sign, i.e. your first house and incur special effects and benefits. During this period, the results you will attain will be somewhat equivalent to that of Raj Yoga, and luck will fully support you. You will benefit financially, socially and professionally, and any of your tasks which were stuck will gain momentum.
You will have to keep your speech in control in the meantime and interfere in any project thoughtfully, since rudeness in your speech can cause problems for you. On the other hand, conditions will become better in marital life, and you can plan a trip with your spouse as well. Health will remain a bit weak, and your opponents will dominate you from every angle. You will get good profit in your business and walk on the path of progress. During this time, you should try to stay away from any kind of legal or court-related dispute. You will get full support from your father and you will feel happy.
Remedy: To attain favourable effects of Mercury, venerate Lord Ganesha and offer him Durva.
Aquarius
Aquarius sign lord Saturn's friendly planet Mercury governs over your eighth house along with your fifth house and will transit through the twelfth house of loss and expenses. During this time, your expenditures will increase, which can make you financially weak. However on the other hand, students of this zodiac sign may come across the opportunity to study abroad, which will increase their happiness. During this period, there will be chances of sudden trips, which can be physically as well as economically demanding. Hence it would be better to avoid travelling
You should pay special attention to your health during this time as you may suffer from skin and nerves related problems. Apart from this, time will not be favorable for love affairs, and your loved one can relocate to another city, which may cause problems for the two of you when it comes to meeting each other. Try and communicate more. Remain a little cautious from the opponents and do not interfere unnecessarily in others' lives.
Remedy: To attain the special grace of Lord Mercury, you should wear Vidhara Mool.
Pisces
Mercury is the lord of the fourth and seventh house for your zodiac sign and enters your eleventh house of profits and benefits during this transit. With the placement of Mercury in your eleventh house, your income will increase, all your desires will get fulfilled and you will enjoy all comforts of life. You will get the support from the family and can earn good money by selling any kind of property. In addition, you will be able to attain growth in business, leading to multiple profits. Your relationship with older siblings will improve and you are likely to attain benefits through your spouse. The closeness between you two will increase, and a sense of love towards each other will grow, leading to a better marital life. You can initiate any new business in case you were planning to do so. You will get good results and flourish further day and night with the blessings of Mercury. Your image in society will increase, and social circle will increase. You can be very active on social media and will get recognition due to your involvement in social activities. You will get a chance to spend time with friends, which will add to your happiness.
Remedy: To gain special benefits, donate Sabut Moong Dal every Wednesday.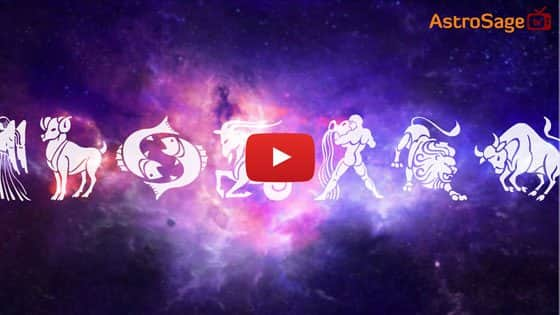 Buy Gemstones


Best quality gemstones with assurance of AstroSage.com
Buy Yantras


Take advantage of Yantra with assurance of AstroSage.com
Buy Feng Shui


Bring Good Luck to your Place with Feng Shui.from AstroSage.com
Buy Rudraksh

Best quality Rudraksh with assurance of AstroSage.com