Mars Transit in Virgo (06 September 2021)- Meaning and Importance
Mars transit in 2021 will take place in Virgo on 6 September 2021 and introduce a lot of changes and additions in the lives of natives of 12 zodiac signs. Find out what's new for these natives and remedies to overcome it.
Know The Impact Of Mars Transit On Your Life From Best Astrologers On Call
Mars is called the red planet and is the most masculine among the nine planets. Mars is considered the God of farming and was worshipped as the God of warfare/battles by the Romans. The energy of this planet is very intense and gives both negative and positive results. Mars will make you a passionate lover, but it can also make you a slave of the senses. It can turn your brave, but violent person.
Mars occupies the fourth spot in planetary transit according to Vedic astrology, Mars which is also named or termed as 'Bhum' called Bhoomi Putra. Mars is also retrograde and has a lot of fire elements and anger. Mars occupies the first house in the horoscope, Mars is considered the leading planet that is the lord of Lagna. The planet positioning of Mars in the horoscope gives you a hint to what will be one's body structure. Will he be having a lean or a strong body structure etc, all these factors are influenced by the planet Mars. Famous surgeons also have a good positioning of Mars in their horoscopes. Mars is considered malefic but for cancer and Leo ascendant, this becomes yoga karaka and bestows the native with prosperity and wealth. Mars is the ruler of the zodiac sign Aries and Scorpio; it has been observed to be aggressive to Aries moon sign and secretive in the Scorpio sign.
The transit of Mars in the sign of Virgo will happen on 6th September 2021 at 3:21 AM to 22nd October till 1:13 AM, till it moves in the sign of Libra. Let's find out what results are in store for all the zodiac signs:
हिंदी में पढ़ने के लिए यहाँ क्लिक करें: कन्या राशि में मंगल का गोचर
The Predictions In This Article Are Based On Moon Signs. Call best astrologers on phone and know in detail about the impact of Mars transit on your life.
Aries
For Aries moon sign, Mars is the Lord of the first and eighth houses and is transiting in the sixth house of debt, enemies and professional life. During the transit, you will remain energetic and enthusiastic and new ideas may strike in your mind. Professionally, you will attain success and profitable results in your field and you will be able to concentrate on your work and produce the desired results. Your senior officials and associates will appreciate your work, which will boost your confidence. You will outshine your rivals and attain great heights of success. financially, you will gain benefit from foreign sources but it is advised to spend your money carefully. Relationship wise you may feel a little pressure in your personal life and romance as you may have some quarrel or fights with your known people. Healthwise, this period may remain unstable as you must fall ill due to some medical condition. It is advised to take precautionary health measures.
Remedy: Worship Lord Hanuman.
Taurus
For the Taurus moon sign, Mars is the lord of the twelfth and seventh house and is transiting in the fifth house. During this transit Mars is likely to make you focus on your relationships. your behaviour towards your partner will be very bold and will be very straightforward with them while expressing your thoughts. This could be present as dominance from your side in the relationship according to the Mars transit. During this transit financially you should stay away from any kind of speculation or gambling activity. professionally, you have to face confrontation at your workplace and with that, some colleagues may also bitch about you behind your back. You may also feel a little irritated as you may get unnecessary obstructions in your attempts. Relationship wise, relation with your spouse will be normal. Some relatives or neighbours feel jealous of you. For lovers this may not be a favourable period as a misunderstanding in the relationship can develop easily. Children will not perform better or their health may cause you some worry and you may feel irritated with their behaviour. Healthwise, you have to take extra care of your health as you may suffer from digestive disorders or stomach pain which may keep you annoyed. It is advised to maintain a proper diet and avoid junk food.
Remedy: Recite Hanuman Chalisa.
Gemini
For the Gemini moon sign, Mars is the lord of the sixth and eleventh house and is transiting in the fourth house of comfort, mother, luxury and property. During this transit, you might feel excess aggression which may spoil your relation with your family members, friend circles and colleagues. Your relation with children may also not be cordial but you may get support from your spouse. You may put a lot of effort and energy in your domestic life. Your actions will be directly or indirectly related to your inner desires and this will have an impact on your career and there might be some important changes coming your way professionally. Due to the transit of Mars in the fourth house, you will fulfil your goal and desire with the help of your family members. Financially, you may think of buying or selling a property and there could also be renovation at home. Relationship wise you will have the full support of your spouse during this period and natives who are in love will also see a favourable period during this time. Healthwise, elements associated with blood trouble might disturb you at this point of time, which is why it is necessary to take care of your health.
Remedy: Donate Mussoorie Dahl on Tuesday.
Cancer
For the Cancer moon sign, Mars is the lord of the fifth and tenth houses and is transiting into the third house of courage, siblings and short journeys. During this transit, this period will prove favourable for you and will give you positive results. During this period you will be full of courage and energy and you will manage new challenges in difficult situations in life easily. You will also like to explore the creative side during this transit. Financially, this period is going to give you good results if you keep a check on your expenses and this is the right time to make an investment under the guidance of some export due to the placement of Mars in your chart and also you have to be extra careful in monetary transactions and business dealings. Professionally, you will get a chance to travel regarding professional matters and you would also like to invest in speculation and there are high chances that you may get benefited from them, this phase will help you interact with intellectual people and discuss your future plans. You will be curious to gather information regarding your field and would add some value to your qualification as time progresses. It is advised to keep learning in exploring your own talent as this will help you to grow and perform better in your field of work. Relationships with your spouse and family will be good during this period. Healthwise, Due to the aspect of Mars on the Sixth house you may suffer from minor health ailments like fever therefore it is advised to take care in this changing season.
Remedy: Chant Mars mantra: Om Kram Kreem Kraum Sah Bhaumaya Namah, 7000 times in 40 days.
Leo
For Leo Moon Sign, Mars is the Lord of the fourth and ninth house and is transiting in the second house of money, wealth and communication. During this transit financially you will not have all the luck as you will get average returns from your investments, avoid any speculation activity and also avoid taking loans. You are also likely to travel with your family members from some auspicious event in the family and your entire focus will be on your domestic life and you are this period it will be full with celebrations. It is advised to keep control of your speech and not to speak any harsh words as that might deteriorate your relationship with your family members. Married natives may witness a downfall in the health of their life partner. You may face some conflicting situations in your relationship but you will manage to get rid of your problem by behaving in an appropriate manner with everyone. Professionally, you may face some problems in your job at the pace of growth and opponents will try to pressure you to spoil your image. Try to maintain relationships with a cool mind. Healthwise, be careful of any injury, particularly on your face. Body pain, fatigue and insomnia because of further worries.
Remedy: Recite Mangal Stotra.
Virgo
For the Virgo moon sign, Mars is the Lord of the third and eighth house and is transiting in the first house of self and personality. During this transit, anger may be the cause of trouble in your relations with your closed ones or with your friend circle as well. it is advised to utilise your inner energy and do not let it waste it externally. Professionally, because of your Rash an aggressive approach there may be some obstructions in your effort to achieve success therefore it is advised not to take any hasty decision and avoid starting any new venture during this transit rather focus on the ongoing project. You should be careful as the opponent may try to create trouble for you, but on the bright side, your hard work will be reciprocated by luck during this tenure. Financially, there will be increased expenses and you might have to spend your money on unnecessary things. Married couples may develop some misunderstanding causing discord in married life due to the aggressive attitude, natives in a relationship may find stability during this period. Healthwise, this period is an accident prone so be careful while walking and do not involve in any risky venture.
Remedy: Wear three Mukhi Rudraksha.
Libra
For the Libra moon sign, Mars is the Lord of the second and first house and is transiting in the twelfth house of spiritualism, hospitalisation and losses. During this transit, expenses are going to rise during this period as you will be making unnecessary purchases. Professionally you may not get support from your subordinates and your seniors and you have to work very hard and you might also face disgrace. Travel will not be fruitful for professional purpose. Relationship wise relationships with your spouse and children will not be cordial therefore avoid any unnecessary arguments with them to further complicate the situation. It is advised to control your temper and aggression during this period. Healthwise, You may be worried about your spouse's health and also you have to take care of your health as you may have stomach related issues or more minor injury or bruise.
Remedy: Recite Mangal Stotra.
Scorpio
For the Scorpio moon sign, Mars is the Lord of the first and sixth house and is transiting in the eleventh house of income/gain and desires. During this transit, you will get mixed results. Financially, you may feel relaxed but for a better position, you have to still work harder so that you might enjoy the extra income you earn. However, investment done in property in the share market gives me a good amount of returns. Professionally, this time is favourite for promotion, if due and this time is also favourite for business natives for you it is the best time for you to put efforts into achieving goals as luck is in your favour and you may also leave for a long journey during this tenure, but the trip will be very much enjoyable and pleasant. You are likely to make necessary improvements in your career which will help you progress in the near future. Relationship wise, Relation with your family members will start improving brothers may prove helpful to you. For lovers, the period is not favourable and some misunderstanding can arise. Friends and family life will be pleasant and you can expect respect and recognition. Married problems may also get reduced. Healthwise, some minor health illnesses can cause some problems to you therefore it is advised to regularly exercise or practice yoga.
Remedy: Worship Lord Shiva and offer him wheat.
Sagittarius
For the Sagittarius moon sign, Mars is the Lord of the fifth and twelfth house and is transiting in the tenth house of career name and fame. During this transit professionally your responsibility and your workload will increase and you will also have to put in a lot of hard work. But the good news is you may get success in your effort, Yet you may not be satisfied with your achievements in your professional life. You should always be alert at your workplace to someone at work who may plan against you and it is advised not to underestimate your opponents. relationship-wise, this transit will not be very much favourable as there are chances of being separated from your better half during this transit and there is some friction in your relationship with your partner and your family members. financially, you may be worried about your finances but you would do well and it will be appreciated only if you avoid any negative thoughts. You could also see that Luck is in your favour and you should take advantage of this period. You may spend to invest in your business or work let it in this period. Health may be the cause of concern because of overexertion you may suffer from fatigue and body pain.
Remedy: Maintain a sweet relationship with your brother and shower him with gifts.
Capricorn
For the Capricorn moon sign, Mars is the Lord of the fourth and eleventh house and is transiting in the ninth house of international journeys, luck, religion, higher studies and relation with father. During this transit financial problems will mostly be solved but you have to work hard for your earnings. Your expenses may be high which is one of the reasons behind you being impatient. It is suggested not to incur heavy expenses on unnecessary luxury items. Opponents and competitors may become the cause of your concern and they will try to tarnish your image also you may face problems at your workplace due to some deeds of some colleagues, therefore, be careful and do not involve in activities which may give your enemies a chance to make a foul play. Relationship wise this is the best period to solve differences between you and your partner however there are chances that you could get angry easily and the only chance you had would be missed. So, make sure that you are able to express your feelings without getting angry. You like me to give importance to your relationship. Keep a check of your tone As you may develop misunderstanding with relatives. Healthwise, you may face problems like fever, fatigue or body pain. To avoid the feeling of disappointment and depression, you should meditate and practise yoga.
Remedy: Worship Lord Hanuman.
Aquarius
For the Aquarius moon sign, Mars is the Lord of the third and tenth house and is transiting in the eighth house of occult science, sudden gain/loss and inheritance. During this period you may feel irritated most of the time and you may also feel confused to make the right decisions. Health-related problems will also occur during this time as some injuries and accidents will also be very cautious while driving, crossing or walking on the road. Sportsmen should be extra careful and should not involve in this adventure you do overconfidence. Blood-related problems are also on the chat. It is advised to take proper medical guidance if you are already suffering from these diseases. Relationship wise relations with your spouse may not be cordial to do an egoistic approach and the spouse also may have some health problems. professionally, you might have to put in a lot of hard work and effort as this period will demand that to achieve your goal. Luck may not favour you despite the continuous effort's, but keep patience as eventually it will get paid off. There would be uncertainty but you would come out of the situation if you stick to your plan. If you are planning to travel during this period you should be prepared for any sudden situation that might occur or there may be some last moment changes in your plans.
Remedy: Keep fast on Tuesdays.
Pisces
For the Pisces moon sign, Mars is the lord of the second and ninth house and is transiting in the seventh house of marriage and partnership. During this transit personal life may suffer due to the malefic planet presence in your seventh house and your temper may also be a problem for you. Don't throw tantrums otherwise, you will be the one to lose. This will be a testing time for your relationship with your spouse therefore you should maintain healthy relations with your spouse and try to avoid quarrelling with your spouse. Also, avoid hot and unwanted arguments. Professionally, You may face some problem at the workplace and in professional life therefore you need to keep patience as you may develop a tendency to pick up fights with your colleagues you may also be forced to face such circumstances that may provoke you to pick up quarrels but ignore such situations and work with a cool mind. It is advised to maintain healthy relations in order to avoid unpleasant situations. financially, the flow of income will be good but not to the expectation. So you may also find it difficult to maintain a proper bank balance. Healthwise you may have to be careful regarding your health as you may suffer from UTI problem or from stomach disorder.
Remedy: Donate copper vessels on Tuesday for specialised results.
We hope you have liked our article. Thank you for being an important part of AstroSage. Stay tuned for more interesting articles.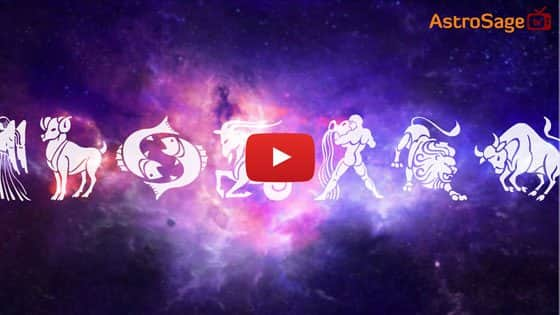 Buy Gemstones


Best quality gemstones with assurance of AstroSage.com
Buy Yantras


Take advantage of Yantra with assurance of AstroSage.com
Buy Feng Shui


Bring Good Luck to your Place with Feng Shui.from AstroSage.com
Buy Rudraksh

Best quality Rudraksh with assurance of AstroSage.com