Sheep Chinese Horoscope 2018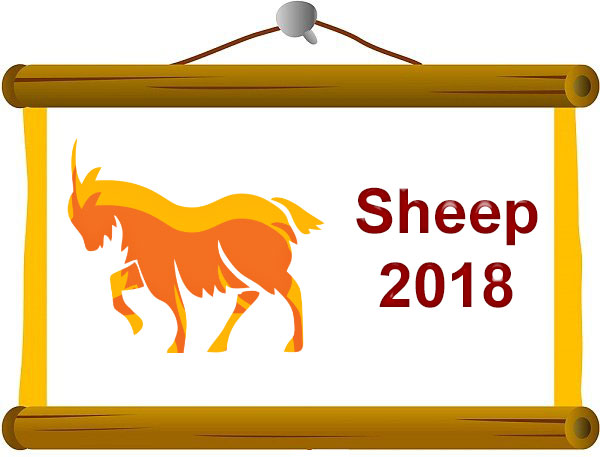 Holding the eighth position in the Chinese zodiac, the Goat/Sheep is the Chinese zodiac sign of people who're born in the years viz: 1931, 1943, 1955, 1967, 1979, 1991, 2003, 2015 and 2027. According to Sheep Chinese Horoscope 2018, the Sheep natives would witness a year loaded with numerous surprises on the professional as well as social fronts. However, you might face some kind of obstacles due to influence of the Stars in your Chinese zodiac sign. It is advised to be in a good form so as to combat the challenges that come your way. You need to take very good care of your health. Maintaining a balanced lifestyle should be on top of your priority list for the year 2018. Also, make sure to go for regular health check-ups as this would defend you against a set of diseases.
Although Sheep and Dog are both farm animals, they aren't fond of each other. While the Dog assures a friendly relationship; the Sheep is able to gather all the love and caring. As per the Chinese Five Element Theory, the Sheep is Female Earth and Dog is Male Earth. Being a female Earth, the Sheep has a humble and peaceful personality. In the Year of the Dog i.e. 2018; when the Sheep meets the Dog, the latter would guide the former when it comes to seeking a goal in life. Due to amazing influence of the Dog, the hard-working and often introvert Sheep would receive excellent rewards. Therefore, it is recommended that all you Sheep natives should make appropriate use of every opportunity that knocks your door. You shouldn't let the opportunity slip away. In addition to this, being confident would aid you in achieving your goal within a short span of time. Your continuous efforts will undoubtedly bring you a good fortune.
Career/Professional Life
On the professional front, the year 2018 will bring both, opportunities as well as challenges for the Sheep natives. However, you'll be able to receive help from the most influential people in your life. With the Sheep being in the Earth group, the year of the Dog will help you in resolving problems on the career front. Although you might find it difficult to adapt to a specific work-related situation initially; you'll definitely get into the groove with the passing time. You'll have a hectic professional routine throughout the year 2018. It is advised to avoid unnecessary arguments at work as this might cause you some kind of professional harm. The influence of 'Ba Zuo' star will keep you in high-spirits at the workplace and your efforts and achievements will be recognized by your boss or customers. There are also chances of getting envied by colleagues inside the office. You might even enter into a quarrel with your co-workers. Therefore, it is advised to maintain excellent interpersonal relationships with your colleagues. The influence of 'Tian De' star will play a major role in improving your interpersonal relationships and you'll be able to deal with people in a manner that would benefit your career.
Star Rating: 4/5
Education
Students belonging to the Sheep Chinese zodiac sign need to stay positive, modest and low-profile during studies in the year 2018. By being under the influence of both, the auspicious and inauspicious stars; the students' instinct would be routed towards numerous academic opportunities. You'll be able to reap maximum benefits by opting for time management. All your efforts towards studies would deliver you positive results in the long run. Academic success will come to you after a long wait and an investment of great deal of time, effort and dedication. The influence of stars named 'Fu Xing' and 'Ba Zuo' will make you a cheerful person and you'll be in a peaceful state of mind throughout your education program. The Star named 'Ban An' indicates a separation from the family due to education initiatives. Hence, the year 2018 is perfect for students who intend to study abroad. You'll be showered with amazing opportunities that would enable you to succeed in your academics. The auspicious star named 'Tian De' suggests the inflow of help and guidance from your seniors at the school and college level. Your continuous efforts will cease the existence of bad luck. Rather, you'll be able to scale new heights of success in the field of education.
Star Rating: 3.5/5
Love
All Sheep zodiac sign natives would encounter an average luck in terms of romantic relationships during the year 2018. You'll have to face numerous challenges in your love life. Under such situations, there is a need to stay patient and communicate all your thoughts and opinions to your romantic partner. By being under the influence of the star named 'Gua Su', all singles would find it difficult to adapt to a new romantic relationships and hence might break up early due to compatibility issues with the love partner. For all you married Sheep natives, a lack of good communication might result in long separation from your husband or wife. Here, it is advised to pay proper attention to your words and avoid provoking each other. Due to influence of two Stars namely 'Juan She' and 'Jiao Sha', you'll start disliking your partner and this may affect your relationship. As per Sheep Chinese Horoscope 2018 An option to make your love relationship stable is to catch up for fewer number of times. Being honest is the key to a successful love relationship. In 2018, you should abstain from getting too close to the opposite sex or there are chances of breaking up with your love partner, who'll lose all his/her trust in you.
Star Rating: 2/5
Find your perfect match with the help of Chinese Astrology: Chinese Compatibility
Health
On the health front, all Sheep natives need to watch their own health as well as the health of the elders in their family in the year 2018. Although the stars named 'Ba Zuo' and 'Fu Xing' indicate physical and mental health benefits; you might have to suffer from head and abdomen diseases such as cerebral and urinary system disorders due to influence of the star named 'Huang Fan'. Also, you'll be more prone to accidents in the year 2018. Hence, be very careful while driving and watch you steps everytime you step out of your home. You might be expected to spend a lot on health issues that would bother you throughout the year. Since the star named 'Jiao Sha' indicates a respiratory infection, it is recommended to opt for a light diet comprising of all the essential vitamins, minerals and proteins. In addition to this, you may also choose to take a good stroll inside a park, the lakeside, riverside or a beach to enjoy fresh air and also to rejuvenate your mind and body. If you're an avid sports lover, then you need to be very cautious regarding accidents from the sports activities like scuba diving, mountain climbing etc.
Star Rating: 3/5
Family
All you Sheep zodiac sign natives would remain cheerful and will have a peaceful mind in terms of family life in the year 2018. However, the influence of some of the inauspicious stars namely Huang Fan and Pi Ma might bring bad luck and sad events in your family. As per Sheep Chinese horoscope 2018, maintaining a positive attitude would aid you in getting out of troubles quickly. In the year 2018, you'll be able to progress after going away from your family members. There might be fragile interpersonal relationships with the family members. Hence, you need to maintain your calm and shouldn't enter into any unnecessary arguments or disputes. If by chance, there are disputes with the family members, then the same are likely to stretch for an extended period of time. In order to avoid getting involved in disputes, it is advised to keep yourself engaged in different kinds of social activities. Despite Dog stealing the limelight from you, there will be ample opportunities where you'll get a chance to gel up with your family members and other relatives. All in all, you'll be recognized within the family as long as you display a humble, sincere and sympathetic attitude to the people within the family and the friend circle.
Star Rating: 3/5
Finance
In the year 2018, the stars namely 'Tian De' and 'Fu Xing' would bring you good luck regarding wealth. You shouldn't crib over every ounce because the year is quite favorable in terms of money-making. There's a need to be open-minded and you'll be successful in earning massive monetary profits. The year indicates high chances of receiving immense appreciation from the boss or customers at the workplace and the same would allow you to increase your income. Make sure to avoid spending lavishly as doing the same might interfere with your annual savings. If you're thinking about investing, then do it modestly and refrain from getting radical or greedy about the return on investment. Due to the influence of the auspicious star named 'Ban An', you're likely to receive positive results if you choose to invest in a remote location. In other words, you can go ahead with business expansion to reap additional financial gains. Likewise, it is necessary to be wary of financial losses due to disputes with the opponents. Sheep Chinese horoscope 2018 says, you should stay away from backbiting because indulging in the same would lead to a downfall in your business reputation. Enhancing public relations will enable you to build a strong brand.
Star Rating: 3/5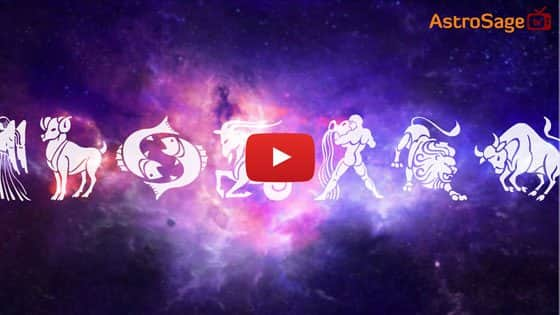 Buy Gemstones


Best quality gemstones with assurance of AstroSage.com
Buy Yantras


Take advantage of Yantra with assurance of AstroSage.com
Buy Feng Shui


Bring Good Luck to your Place with Feng Shui.from AstroSage.com
Buy Rudraksh

Best quality Rudraksh with assurance of AstroSage.com