Rooster Chinese Horoscope 2018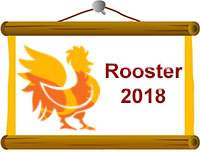 The Rooster, according to the traditional Chinese Astrology is ranked to be in the tenth position in the 12-year cycle of Chinese Zodiac signs. The Chinese Zodiac Sign Rooster represents intellect and independence. The people of Rooster Sign are smart, ambitious, distinctive and have a foresight, etc these are the qualities, which are showcased in them. The Roosters are denoted to be the epitome of punctuality and fidelity as they always want to be on time and never miss the train of their life. They are known to be the hardworking and honest people at the same time they are also humorous in nature. Whereas, the people of the Chinese Rooster sign had to face many ups and downs and hurdles in 2017 due to the influence of the star Ben Ming Nian, which had brought misfortune for them in the past year. On the other hand this year 2018, which is owned by the year of the Wood Dog, known as 'Wu Xu' (戊戌) in Chinese, is also not found to be that favorable for you as the previous year. In addition, the interrelation between Roosters and Dogs are never found to be that cordial to make an ideal pair who could favor one another. Thus, as per Rooster Chinese Horoscope 2018, you won't be completely able to get rid of the evil spirits of the star Tai Sui - who is known to be the legendary God, who is in charge of the fate and fortune of the people in this 2018 year. Although the impact that the star Tai Sui has on the Roosters is much less harmful and serious as compared to the other star Ben Ming Nian, which has more troublesome consequences that can bring a lot of troubles that you probably cannot handle lightly. Since 2018 i.e. the year of the Dog conflicts with the earthly branch of Dragon, people under Dragon chinese zodiac sign would conflict with Tai Sui. With just a handful of auspicious stars present in your zodiac, the inauspicious star named 'Sui Po' would bring bad luck for you in the year 2018. Other inauspicious stars that will bring bad luck in terms of finances and career include Da Hao and Lan Gan. It is recommended to initiate a modification and make continuous efforts to introduce an innovation. Doing this would play a major role in minimizing the adverse effects of the conflict with Tai Sui. As a self-sufficient and independent individual, you'll not shy away from putting in a lot of hard work towards achieving success. In the year 2018, the Yellow Dog would favour the Dragons. This means you'll be able to reap the benefits only if you focus on teamwork. You should leave no stone unturned in getting hold of multiple friends with whom you can discuss important matters and get inspired by learning new things. All in all, the year 2018 is going to be quite hectic for the Dragons. They would receive immense amount of appreciation for their mature nature and utmost genuineness. By ditching fatigue and carelessness, you can easily scale new heights of success on both, the professional as well as the personal fronts.
Career/Professional Life
As per the predictions, this year 2018 will help the natives of the Chinese Rooster Zodiac to develop new partnerships in their business and at the same time will as be keen on making their business partnerships grow to new levels of prosperity. However, there are also chances for the growth, for which they might have achieved to gain success may become stationary for some period of time. You should always remember to keep an eye regarding your behavior, like how are you supposed to behave or how are you supposed to convey yourself. While in your terms, a diplomatic behavior at times could get you the fruits, which you might be longing for. There has to be a thin line always drawn between you and your colleagues, hence keep in mind to, never get much acquainted with your workmates at your workplace. There is a possibility for you this year to meet different kinds of people in your life for gaining better opportunities in terms of work, which could be related to your career. There are also chances for you to have timely official trips related to your work, as this is quite possible as it is on your charts this year.
Star Rating: 3/5
Education
This year, according to the predictions it is recommended for the students to focus on their studies, as this is definitely needed as per to gain success in their examinations. You should try to maintain the consecutiveness in your studies due to which your exam results may remain stagnant but won't drop. You should always be in search of gaining new knowledge and explore your capabilities, hence search for as many options as you can to, continuously gain the quintessence of knowledge. There can be times when it could be difficult for you to prepare yourself for examinations on your own, so in such cases taking the help of coaching classes and extra classes may yield you desirable results. This year of the Wood Dog shows that the students will indulge in making new friends and study groups, which will in return help the natives to gain knowledge from their new friends and this will surely help them to seek fruitful results in their studies. There is hard work and struggle on your cards this year but you will need to struggle for the sake of your studies and this effort of yours will definitely prove to be a positive one for you.
Star Rating: 3/5
Love
According to the predictions, the year 2018 will remain good in terms of your love life. Hence, you need to cherish all these moments with your partner/spouse. You should try to keep your emotions at bay, as this could not yield you results but instead having a practical approach would yield the necessary results. The Roosters natives who are still singles or newly singles may get their soul mates this year, but you also have to be careful with this as well. The partners who might have parted ways may get a chance to revive their lost love relationship once more. There is a possibility for you to have some misunderstandings in your love relationship; hence, you should try to keep your expectations minimal to avoid any further confusion between you both. By chance, if there are, still some misunderstandings left or just to impress your partner/spouse you should spend some of your money on gifts to keep your loved ones happy. To maintain the cordial relationship that you share with your partner, you should talk to them frequently to avoid situations of despair.
Star Rating: 3/5
Health
The year 2018, the year of the Wood Dog, shows the predictions for the Rooster Zodiacs, that this year will remain just fine according to your health point of view. In this particular duration, it is recommended for the women especially who are pregnant should take extra care of their health and of their unborn babies. There is a possibility for you to get affected by the seasonal flus, which may harm you, but nothing as such serious will occur that could harm you to an extreme level. Hence, take care of yourself. To keep your mind, body, and soul healthy you should try to get yourself involved in daily exercises, which will help you to keep yourself fit and fine. There are chances for timely diseases to occur this year, therefore it becomes necessary for you to be cautious about yourself and your health throughout the year as you might get one. Outdoor exercises like jogging and indoor exercises like gyming will help you to stay healthy for the entire year. Hence, to avoid the unnecessary laziness to hamper on you, you should hit the gym and get on your sports shoes to go for a jog.
Star Rating: 3/5
Family
This year, your relationships with your family members at home could be below average; hence, you should try to maintain the mutual harmony within the housemates. It is strictly recommended for you to not to get involved in any unnecessary arguments at home and do not fall prey to this. Instead of getting pissed off or isolating yourself to a corner you should take a step forward to share your thoughts and try to speak up your mind with family members, to lend them a chance to understand your emotions better. During this period, it will be favorable for you and your family if you all plan some trips together with your family and enjoy yourselves. There is a possibility for you this year to be frequently visited by your relatives and also, by the people you may know, therefore, it is suggested for you to stay calm and composed and not to get irritated. You should definitely try to have some positive outcomes for yourself with these visits as this could favor you in the long run. Therefore, lastly, it comes on your shoulders to tackle the situations wisely and handle the things smartly to avoid any further disputes.
Star Rating: 2/5
Finance
With all the other conditions giving you average or below average outcomes, your economic conditions this year show good stats according to the 2018 predictions. However, you need to be careful while dealing with transactions related to money matters. In this duration, you need to act smart to get any of your works done. According to the predictions, there is a strong possibility for some old debts of yours to come back to you. You should make plans to invest your money in some property related things to gain profitable growths in your economic resources. This duration will also prove to be fruitful for you to make other investments as well since this is the most favorable time to get involved in such financial resources. Hence, try to invest in as many resources as you could but only after thoroughly investigating about it, so that you may not have to face its harsh consequences in the near future. You should try to keep your money matters secure and should not try to disclose these matters to anyone, as revealing your internal matters to some unfaithful person could lead you to suffer a loss in terms of your financial conditions.
Star Rating: 4/5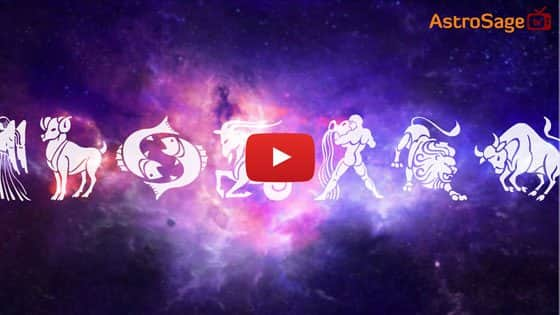 Buy Gemstones


Best quality gemstones with assurance of AstroSage.com
Buy Yantras


Take advantage of Yantra with assurance of AstroSage.com
Buy Feng Shui


Bring Good Luck to your Place with Feng Shui.from AstroSage.com
Buy Rudraksh

Best quality Rudraksh with assurance of AstroSage.com