Rat Chinese Horoscope 2018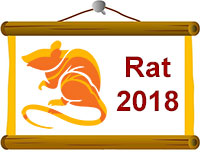 According to Chinese Astrology, 2018 is the year of Wood Dog 'Wu Xu' (戊戌). Overall, the year 2018 will turn out to be good for you - the people of the Rat sign in Chinese Zodiac. Due to the influence of two significant positive stars – 'Tang Fu' and 'Tian Jie', you will enjoy immense favorable luck and positivity throughout the year. You will be energetic with a clear mind and achieve success in education, career and finance. However, due to the presence of several inauspicious stars, especially 'Zia Sha' and 'Fu Chen', you might have to face few roadblocks along the way. You might come across numerous financial challenges and feel tremendous pressure. But, don't worry. You will posses great determination and enthusiasm to overcome challenges and meet your goals.
You need to focus on your health: exercise regularly, practice Yoga or meditation, or do whatever that helps you relax. Staying calm and motivated will be crucial for overcoming obstacles and achieving success.
Friends will also play an important role this year of Dog 2018. Friends will help you to stay strong and motivated, especially when you'll feel stressed or worn out. Spend time with good friends who can guide you whenever you feel lost or discouraged. Also, don't lose your temper and argue unnecessarily with friends. Watch your words before you speak.
The lucky star 'Ba-Tzo' will ensure that you shine in your career. A promotion is also on the cards. Work hard, go an extra mile and create new milestones. Your sincerity and hard work will not go unnoticed and unappreciated.
If you have been thinking of starting a new business for some time, 2018 is the year to fulfill that dream.
Also, be careful while choosing a partner or friend. Don't trust someone blindly. The person might pretend to be your friend but conspire against you.
Career/Profession
The year 2018 looks good overall for your career. You will receive steady income from work and indulge in a lot of creative and innovative projects.
If you work in an office setting, you will impress your superiors with your hard work and creative problem solving abilities. Due to your high energy, you will inspire everyone around you. Hence, chances of promotion are very high.
You will have immense creativity and imagination to contribute to your work positively. This year you will produce some of your best work taking you to new heights in your career. The people in writing, screenwriting, design or advertising, will create some exemplary work surpassing everyone's expectations.
For those working in military, you will show exemplary grit and discipline winning appreciation from superiors and receiving a promotion to higher ranks.
You might experience few roadblocks due to 'Fu Chen', but don't let the setbacks stop you from achieving your goals. Due to your determination and strong willpower, you will be able to overcome all the obstacles and come through with flying colors. Also, don't hesitate to seek support from your elders or seniors whenever you find yourself struggling.
The year doesn't look too good for those in business, as they might experience some unexpected financial losses.
Education
By nature the rat is always alert, swift and ready to take new steps in order to move forward. It has the powerful sense of spotting the right opportunity and using it to the fullest.
2018 is full of opportunities for students. Your hard work and insightful nature will help you to do exceptionally well in studies. You will sail through examinations without any obstacles. Although you might feel a little under pressure, but your enthusiasm will help you to study hard and stay motivated.
If you find yourself stuck or confused, don't hesitate to approach your teachers or professors who will be happy to help you solve your issues. Don't take undue stress during examinations. Eat, sleep and exercise well in order to keep calm and stay relaxed.
For those applying for higher studies, you will be able to secure admissions in your colleges or courses of choice. However, it is important to use your own judgment to decide what course or college is best for you. Consult your seniors or teachers to help you make wise decisions.
Although you might feel a little unsure at times, but believe in yourself and don't hesitate to make strong choices. The year is particularly good for students in Arts or commerce stream. Also, if you have been thinking of studying abroad, this is the year for you.
Love
Year 2018 is excellent for your romantic life. Under the positive influence of the auspicious star 'Tang Fu', your self-esteem will soar high and you will attract a lot of potential partners. Don't hesitate to confess your love in case you find the perfect one. But be careful and don't be too trustful either.
You might face roadblocks as elders or family members might not approve of your new relationship. But you need to stay firm. They will eventually understand and accept your love, thanks to the blessing of the auspicious star 'Tian Jie'.
For the Rats already in relationships, the year will take your relationship to new heights and your love will blossom and get stronger.
However, the married rats might focus more on work life and not invest much time in relationships. You must understand that giving time to relationships and maintaining healthy work-life balance is crucial to a successful married life. Ignoring relationships will have a negative impact on your marriage.
Also, your relationship might experience ups and downs and occasional disagreements might lead to arguments, but, you need to see things from another perspective and resolve issues amicably.
Health
You might face few challenges health wise due to the influence of two inauspicious stars 'Zai Sha' and 'Fu Chen'. You need to take care of your health and watch out in daily life. Keeping a healthy lifestyle will go a long way in avoiding any health issues. Eat healthy, exercise and sleep well to avoid health issues.
You should also be careful about the elders in family as they might experience some health problems. Hence, regular health checkups are advisable. Also, be extra careful about the home safety and ensure that home objects aren't lying in a disorderly manner. Keep the house neatly arranged and ensure objects are organized properly.
Also, if you are fond of sports, make sure you don't engage in high-risk actions or drive recklessly. Also, for rats who love surfing, be a little extra careful to avoid any marine risks.
Despite occasional challenges, you will do well on the health front. Just keep your energy high and stay positive. Don't engage in high-risk adventures. Take care of your overall health and well-being - physical, mental and emotional. Avoid unnecessary stress that can cause you mental or emotional fatigue.
Family
In year 2018 you will continue to receive love and support from your family. Your family will encourage you in the matters of love, career, or education, and provide a pillar of support and comfort during challenging times.
But sometimes you might experience some trouble with your family. Minor differences in opinion might arise in matters related to fiancé or love, but you need to handle the situation maturely without ruffling feathers. You must understand different viewpoints and try to put across your point without losing your temper. You must also be careful of what you speak to avoid unnecessary arguments.
Despite issues or disagreements, mutual understanding and care will prevail and your family life will be great overall.
Also, for the workaholic rats, it's important that you maintain a healthy work-life balance. Devoting too much time on work and ignoring your family might cost heavy in the long run. Despite hectic work schedule, make sure that you spend good time with family. This will strengthen family ties and build healthy relationships.
It is also advisable to organize vacations to unwind and spend some quality family time together.
Wealth/Finance
Year 2018 is blessed with the auspicious star 'Tang Fu', so you will receive steady income throughout the year. Due to your creativity and hard work, you will continue to shine at work and make more money.
However, people in business might face challenges and incur few losses. They will have unstable income and low business growth.
Also, you might have to be extra careful of the family expenditure. Due to the influence of the inauspicious star 'Sang Men', you might have to experience financial losses due to lavish spending by family members. You need to monitor the family expenses to avoid any financial problems in the future.
The year 2018 is also affected by the inauspicious star 'Zai Sha' that causes unexpected financial troubles and losses. You need to spend in moderation, control your expenditure, and be a little prudent in matters of financial investment.
Also, the elders in the family will be prone to deception by financial crooks. Teach the elders to stay away from deceptive people promising quick money. Avoid any financial tip from friends or relatives.
Also, if you haven't been saving so far, start doing it now. Savings made today will be cherished in the future.
Moreover, red, green and purple are the colors for the year 2018. Ideally you can wear them or put them in your home to bring good luck.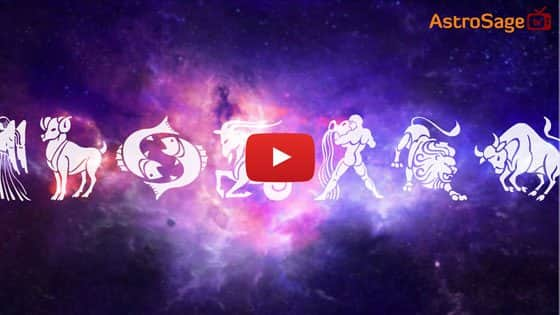 Buy Gemstones


Best quality gemstones with assurance of AstroSage.com
Buy Yantras


Take advantage of Yantra with assurance of AstroSage.com
Buy Feng Shui


Bring Good Luck to your Place with Feng Shui.from AstroSage.com
Buy Rudraksh

Best quality Rudraksh with assurance of AstroSage.com