Rabbit Chinese Horoscope 2018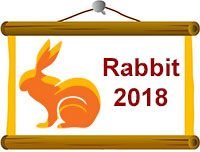 The year is mostly going to be a mixed bag, involving both hits as well as misses for natives of Rabbit chinese zodiac sign. You will make significant progress in career and professional life, yet face plenty of roadblocks along the way. Your creativity and hard work will help you make significant advancement in career. But you might tend to become over enthusiastic or overconfident, and make bad business or financial decisions. Your hard work and sincerity will be appreciated by both peers as well as superiors at work. But a rival or opponent might try to cause you some professional harm or tarnish your professional image. You must avoid any conflicts or confrontations at work as much as you can.
According to Rabbit Chinese Horoscope 2018 predictions, students might experience few challenges this year and their concentration might get disturbed. This will cause a negative impact on their studies and their performance at examinations might drop significantly. Hence, they must try to practice regular meditation or Yoga to stay focused and avoid distractions in studies.
Your love life will be great overall. Your relationship with the partner will improve and your mutual understanding will increase. You will support each other in crucial matters and complete several important tasks successfully.
On the health front, you won't face any major problems, but minor issues might crop up every now and then. Due to work stress, you might experience issues like high blood pressure or glucose level. Hence, you must try to a lead a healthy lifestyle which includes balanced diet, exercise, and mediation. You might also face some sleep problems this year.
There won't be any major problems in the family life and it will be mostly peaceful. There will be a sense of togetherness in the family and family members will support each other in crucial times.
You will achieve significant progress on the financial front, but don't get overconfident and make hasty decisions which might harm you later. Always consult a financial expert before making any crucial financial investment.
Career/Professional Life (3/5)
For people under Rabbit chinese zodiac sign, career life will be mostly average this year. Your enthusiasm might drop slightly, which will lead to occasional delays at work or profession. Hence, you need to improve your efficiency and start working faster and more speedily. In order to do this, you will need to learn time management. You are also likely to change your job which will translate into better salary and position. The income from job or profession will also increase. You are intelligent and have a creative bent of mind; hence, you will indulge in a number of innovative projects at work or profession, leading to significant progress in career. Although there will be an increase in salary or income, your expenses will also go up. Hence, you must try to control your expenses and avoid spending lavishly. Your hard work and innovative thinking will be appreciated by peers as well as superiors at work. As you learn to manage time better, your work efficiency will improve tremendously. This will open doors to new opportunities for career growth. Due to your cordial attitude, you generally get along well with both peers and superiors at work. The year will turn to be quite favorable for the people engaged in business and marketing.
Star Rating: 3/5
Education
According to Rabbit Chinese Horoscope 2018, this year will be slightly challenging for the students. The students will have to put in additional efforts to perform well at studies. You will need to look for better and more creative ways to study. Your concentration might also be affected, and you will occasionally find yourself distracted. Due to problems in concentration, your studies will get impacted. Your performance at examinations might also take a hit and your scores might drop. You will have difficulty in clearing or passing exams. Despite several attempts, you won't be able to regain your focus or concentration easily. Hence, you must work towards improving your concentration, and resolve any personal issues that might be troubling you. If you are struggling at the personal level, don't hesitate to seek help. Practice meditation or Yoga to relax and regain your composure. Avoid taking undue stress during examinations. You need to work hard to overcome your personal challenges so that your studies are not affected. Despite roadblocks, your hard work and sincerity will pay off eventually and your performance at studies will improve.
Star Rating: 3/5
Love
Your love life will be great this year as per Chinese astrology. There will be mutual trust and respect in your relationship. To strengthen your relationship, you need to learn to respect and trust your partner unconditionally. You must make sincere and proactive efforts to keep your relationship strong. Don't hesitate to make any compromises to build and strengthen your relationship. You might also take your relationship to the next level and plan to marry your partner this year. You might also expect a baby. With time, your relationship will grow and become even stronger. As per chinese horoscope, you must spend some quality time together, so that you can know each other better. Despite great understanding and mutual respect, you might experience few hurdles and minor conflicts or arguments with the partner might arise. Hence, you must try work around your disagreements or conflicts. Try to spend some time together, and understand each other's perspective. Any dispute or disagreement can resolved through mutual discussion. In case you are unable to settle the issues yourself, seek help from a trusted friend. Also, consult parents or elders in the family, who can give you a fresh perspective on the situation.
Star Rating: 3.5/5
Health
The year, as per Chinese horoscope 2018, will be good in terms of health and well-being. No major health concerns or challenges will arise this year. However, you will have to constantly work towards staying physically fit and healthy. In case you are overweight, then you must try to lose weight. Always have a balanced diet and avoid fried or oily food as much as you can. Have your meals at proper intervals and avoid overeating, especially in the night time. Due to hectic or busy work or social life, you might feel slightly stressed or fatigued. Sometimes, you might experience minor health issues related to blood pressure or glucose level. You might also have trouble in sleeping or experience episodes of insomnia. Avoid taking any sleeping pills, no matter what. Get yourself a regular health check-up and seek medical help in case of any issues. Any carelessness might prove detrimental for your long-term health or well-being. Due to high stress, you might face health problems like high blood pressure. Learn to maintain a healthy work-life balance. Practice meditation or Yoga to relax and avoid mental fatigue. Eat healthy food and exercise on a regular basis. Avoid smoking or alcohol as much as you can.
Star Rating: 3.5/5
Family (4/5)
Your family life will be mostly peaceful this year. There will be harmony and peace in the family. The family members will support each other in all personal or professional matters, and there will always be a sense of togetherness in the family. Although minor disputes might arise sometimes, the overall family life will be congenial and no major issues will crop up. However, you need to watch out your daily routine and look for ways to improve family relationships. You are responsible and understanding, hence, the family will always look up to you for any support. You will always play a crucial role in resolving family issues or strengthening family ties. Despites occasional disputes, you will share good interpersonal relationship with friends or family in accordance with Rabbit Chinese horoscope 2018. Due to hectic work or professional life, you will sometimes not have enough time to spend with family. Hence, you must learn to maintain a healthy work-life balance. No matter how busy work schedule you have, devote or spend some time with the family always. For this, you must organize regular vacations with the family in the leisure time. Always remember that family or parental support is crucial for success at a personal or professional level.
Star Rating: 4/5
Finance (2/5)
Your financial life will be mostly stable this year. You will get ample opportunities for financial or economic progress. Although few ups and downs might crop up every now and then, you will make significant progress on the financial or economic front. But, you will have to work quite hard to achieve your financial or economic goals. Don't rely on shortcuts or quick fixes to make money; else you will always face disappointment. Make all your business or financial decisions carefully. Be careful while making any new financial investments and consult a financial expert always. Don't lend money to unreliable people, as you might not receive it back. In regard with Chinese horoscope 2018, you might tend to overspend, and your expenses might sometimes exceed your income. This might cause you some financial strain. You must watch out your expenses and ensure that they never exceed your income. Don't spend money on unnecessary things. Try to make some savings for the future. Due to your bad financial decisions, you might have to experience some financial losses. Despite challenges or hurdles, you will mostly be able to achieve your financial or economic goals. Also, keep in mind that savings made today will be cherished in the future. So, start saving today.
Star Rating: 2/5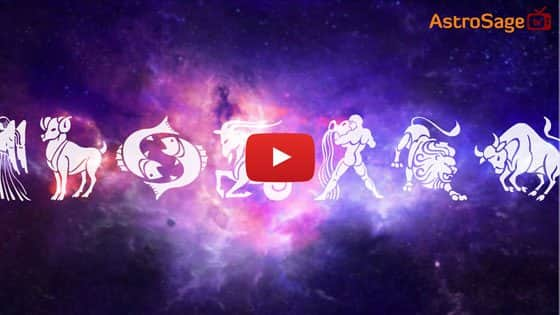 Buy Gemstones


Best quality gemstones with assurance of AstroSage.com
Buy Yantras


Take advantage of Yantra with assurance of AstroSage.com
Buy Feng Shui


Bring Good Luck to your Place with Feng Shui.from AstroSage.com
Buy Rudraksh

Best quality Rudraksh with assurance of AstroSage.com