Dragon Chinese Horoscope 2018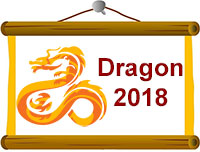 Holding the fifth position in the Chinese zodiac, the Chinese Horoscope 2018 for Dragon zodiac sign is for those born in the years viz: 1928, 1940, 1952, 1964, 1976, 1988, 2000, 2012 and 2024. The year 2018 depicts that the people with Dragon as their zodiac sign will get surer about themselves on the career front. Although your talent would be acknowledged by the senior officials, it is highly advised to stay moderate during decision-making.
Since 2018 i.e. the year of the Dog conflicts with the earthly branch of Dragon, people under Dragon chinese zodiac sign would conflict with Tai Sui. With just a handful of auspicious stars present in your zodiac, the inauspicious star named 'Sui Po' would bring bad luck for you in the year 2018. Other inauspicious stars that will bring bad luck in terms of finances and career include Da Hao and Lan Gan. It is recommended to initiate a modification and make continuous efforts to introduce an innovation. Doing this would play a major role in minimizing the adverse effects of the conflict with Tai Sui. As a self-sufficient and independent individual, you'll not shy away from putting in a lot of hard work towards achieving success. In the year 2018, the Yellow Dog would favour the Dragons. This means you'll be able to reap the benefits only if you focus on teamwork. You should leave no stone unturned in getting hold of multiple friends with whom you can discuss important matters and get inspired by learning new things. All in all, the year 2018 is going to be quite hectic for the Dragons. They would receive immense amount of appreciation for their mature nature and utmost genuineness. By ditching fatigue and carelessness, you can easily scale new heights of success on both, the professional as well as the personal fronts.
Career/Professional Life
For Dragon zodiac sign, you'll be at the edge of a rising career in the year 2018. It is essential for you to work hard in order to achieve brilliant results on the career front. Although you might encounter multiple difficulties in work, it is recommended to maintain a positive attitude within the workplace in order to build a good professional reputation. In the year of Dog i.e. 2018; all you Dragons might have to face troubles in building a career. You might commit some or the other mistakes at the workplace and hence might be scolded by your superiors. This would result in a lot of mental pressure and anxiety. Under such a scenario, it is advised not to make a decision in haste, rather you must make every possible effort to prove your skills via competence. Doing this would enable you to harvest a career that will be fulfilling and fetch you the best results. In 2018, the inauspicious star named Yue Sha is expected to bring bad interpersonal relationships with your company. Hence, you must never get carried away with the tales of some of the other male or female colleagues and never talk ill of your employer or company.
Star Rating: 3/5
Education
As per chinese horoscope 2018, students under Dragon Chinese zodiac sign need to hold a positive attitude when studying. There might be situations wherein you may have to encounter a strong competitor. You need to work really hard in order to pass your examinations with flying colours. The reason for this being you might face challenges related to certain subjects in your academics. Despite all the hard work and challenges, the one thing that will be favourable during 2018 is that you will be focused towards your education and will have a high concentration level. With a powerful and magnetic personality, you; the Dragon; will always strive for extravagance in the year 2018. You'll be trying every possible measure to fulfil your academic ambitions. Anyone who tries to resist you would have to face your anger. In order to achieve academic success, it is absolutely essential to gather guidance rendered by your seniors. You shouldn't get distracted by the activities of your competitors. It is vital for you to understand the criticality of maintaining healthy relationship with your fellow students as you can get an opportunity to learn from their convictions. All in all, 2018 will offer mixed results for students belonging to Chinese Dragon zodiac sign.
Star Rating: 3/5
Love
All you Dragons need to avoid giving in to the temptations of specific one night stands in the year 2018. Although love and warmth will entwine you, there is a necessity of being faithful in your love relationship. The Dragons who are married will have disputes or a cold war; with a slight possibility of a separation. All Dragons in a couple need to be frank and tolerant towards each other. For this, it is absolutely essential to communicate in a timely fashion. You should also abstain from analysing the activities of your partner as this might irritate him/her and lead to a situation wherein you may have to live separately. All single Dragons might face the situation of a one-sided love. Hence, they need to confront such one-sided love or the scenario may cause them a lot of mental unrest and anxiety. To sum it up, the Year of the Dog 2018 is not favourable for the Dragons who're into romantic relationships. It is recommended that every Dragon who's interested in building a love affair should be quite selective before making the first move. You need to socialize more often in order to keep yourself calm, composed and happy.
Star Rating: 3.5/5
Health
According to Dragon Chinese Horoscope 2018 predictions, all Dragons need to focus on their physical well-being. The reason for this being that under the influence of conflict with Tai Sui, you might have to suffer from poor health throughout the year. Additionally, you might also be prone to an accident or sudden illness. 2018 also brings a clear possibility of an old disease getting relapsed for the Dragons. Hence, it is advised to watch your food intake and start getting involved in outdoor sports activities. You should undergo regular physical examinations in order to keep diseases at bay. Special attention should be paid to your stomach and digestive system as you might have to suffer from illness related to the same. In addition to this, Dragons should also avoid eating junk or deep fried food as these may interfere with the proper functioning of your organs. Since Dragon and Dog are both Male Earth, any conflict between the two will make Earth strong. This would put an adverse effect on your health. Avoid consuming too much sugar and drink healthily in order to prevent diseases related to kidney, urinary bladder etc. Taking a stroll in a lawn or park will prove to be an excellent source of rejuvenating your health. Moreover, it is recommended that you must watch out any health problems with your legs, nervous system, liver and arms.
Star Rating: 3.5/5
Family (4/5)
Since the Dog and Dragon zodiac sign do not get along well, the year 2018 might witness you making a large number of adjustments. You'll spend quality time with your family and would turn to be the centre of attraction within the family. All Dragons will receive continuous love and support from family and friends. Support rendered by the family will aid you in facing multiple challenges in life. The year 2018 will bring smaller family get-togethers and you'll spend good time with your closest friends. At some points of time, there are also chances of encountering unexpected personal disputes and conflicts with friends. Under such a situation, you should keep calm and make efforts to resolve the issue amicably. Maintaining a humble and friendly attitude towards the family members would prove advantageous for the welfare and development of the family. Receiving love and appreciation from the family members will make you happy. Your self-esteem is expected to grow in the year 2018 due to continuous delighted glances coming your way. Unlike the year 2017, Dragon Chinese Horoscope 2018 will have you participating in domestic affairs. You'll realize the fact that all difficulties pertaining to the family are simply tads and not the things that bother you continuously.
Star Rating: 4/5
Finance
All Dragons love to earn money but aren't competent enough in saving it in a wise manner. In the year 2018, it is essential for you to ensure controlled expenditures. For this, it is essential to set up a strategy that would enable you to save money from your monthly salary. Doing this would ensure good savings throughout the year. You need to be very careful while spending money on things. Although you aren't that much into investing, in case you decide to proceed with the same, make sure to keep away from the high-risk investments. In 2018, it would be vital to take complete pride in all your accomplishments. By adhering to a single investment strategy, it would become convenient for you to save huge sums of money. As per Chinese astrology 2018, if you are planning to start a business, then you might have to come across some or the other obstacles. Hence, it is recommended to plan properly before every single move. During the Year of the Dog, your income is expected to remain limited unless and until you work hard to earn a higher salary. Entering into business collaboration with someone close to you, like any of your relatives, family members etc. will prove beneficial.
Star Rating: 3.5/5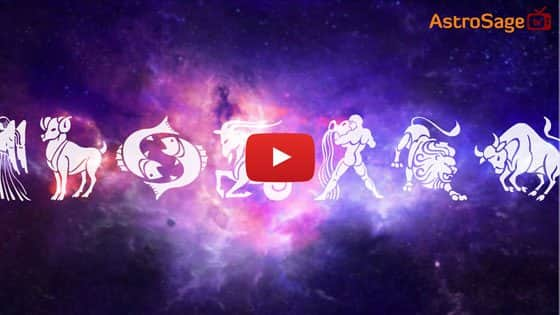 Buy Gemstones


Best quality gemstones with assurance of AstroSage.com
Buy Yantras


Take advantage of Yantra with assurance of AstroSage.com
Buy Feng Shui


Bring Good Luck to your Place with Feng Shui.from AstroSage.com
Buy Rudraksh

Best quality Rudraksh with assurance of AstroSage.com